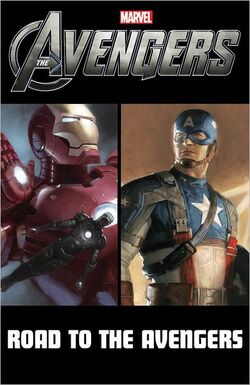 Road to the Avengers is a paperback graphic novel tie-in to the Marvel Cinematic Universe.
Overview
Gear up for The Avengers movie with these official in-movie-continuity stories starring Avengers mainstays Iron Man, Captain America and the Agents of S.H.I.E.L.D.! First, it's an expanded re-imagining of the original Iron Man, featuring bonus scenes not in the movie! Then, it's an all-new Iron Man adventure! What happened between the events of Iron Man and Iron Man 2? How did Tony Stark put a new chapter in the history books? And how did Iron Man break and rewrite all the rules? Then, it's Black Widow, Nick Fury and Agent Coulson in espionage action! Think you know S.H.I.E.L.D.? Check out what you DIDN 'T see in the movies! And finally, it's the official comics prequel to the blockbuster Captain America! Steve Rogers is the inspiration for millions during the dark days of World War Two - but where did he get his inspiration from? How did he meet his best friend, "Bucky" Barnes? And what set him on the path to becoming the First Avenger? Experience an all-new Cap adventure on the European battlefields!
The issues included in the collection are Iron Man: I Am Iron Man! #1-2, Iron Man 2: Public Identity #1-3, Iron Man 2: Agents of S.H.I.E.L.D., Captain America: First Vengeance #1-4.
The Road to The Avengers by Peter David, Christos Gage (Text by (Art/Photo Books)), Joe Casey (Text by (Art/Photo Books)), Justin Theroux (Text by (Art/Photo Books)), Sean Chen (Illustrator).
Ad blocker interference detected!
Wikia is a free-to-use site that makes money from advertising. We have a modified experience for viewers using ad blockers

Wikia is not accessible if you've made further modifications. Remove the custom ad blocker rule(s) and the page will load as expected.