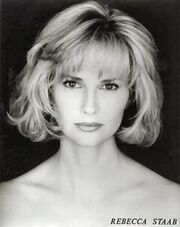 Rebecca Staab portrayed Sue Storm in The Fantastic Four.
Significant roles
Daphne Harridge Collins in Dark Shadows (1991)
Arlene in The Marrying Man (1991)
Cheryl in Love Potion No. 9 (1992)
Jamie Wheeler in TNT (1996)
Kate Banks in House on a Hill (2006)
Constance in Love at First Hiccup (2009)
Trudy Turnbow in Dicks (2010)
Quotes
"My best friend and I became fanatics... I was like, Oh, my God, I have to be Mary. That was my calling. I did theater in high school but I was a real academic... It wasn't logical to say, Oh, I'm going to be an actor. I was a straight-A student in high school and in college. My major was speech with journalism."
"When I walked into the audition, they had pictures on the wall of Susan Storm and I thought, This is good. She looks just like me... I think it would be great! But it depends on what power it is ... if I really had the power to become invisible, I would do it in a minute."
Ad blocker interference detected!
Wikia is a free-to-use site that makes money from advertising. We have a modified experience for viewers using ad blockers

Wikia is not accessible if you've made further modifications. Remove the custom ad blocker rule(s) and the page will load as expected.