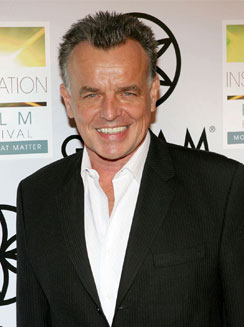 Ray Wise portrayed the Secretary of State of the United States in X-Men: First Class and Hugh Jones in Agent Carter episode "Bridge and Tunnel".
Significant roles
Dr. Alec Holland in Swamp Thing (1982)
Blair Sullivan in Dallas (1982)
Sol Gann in The Journey of Natty Gann (1985)
Spiros Koralis in The Colbys (1986)
Leon C. Nash in RoboCop (1987)
The Dealer in California (1988)
Fred Drummond in Season of Fear (1989)
Liko in Star Trek: The Next Generation (1989)
Robbins in The Rift (1990)
Archie in The Secret Life of Archie's Wife (1990)
Mark Gaston in Write to Kill (1991)
Leland Palmer in Twin Peaks (1990-1991)
Leland Palmer in Twin Peaks: Fire Walk with Me (1992)
Chet McGregor in Bob Roberts (1992)
John Morton in Rising Sun (1993)
Dalton Voss in The Chase (1994)
Dwight Frye in Body Shot (1994)
Charles Pierce in The Crew (1994)
Judge Jim Stinson in Second Chances (1993-1994)
Mike Todd in Liz: The Elizabeth Taylor Story (1995)
Dr. Aaron Stripler in Powder (1995)
Edward Burton in Savannah (1996-1997)
Arturis in Star Trek: Voyager (1998)
John Wescott in Windfall (2001)
Jack Mornay in Resurrection Blvd. (2000-2001)
Brian Sanger in Landspeed (2002)
Frank Harrington in Dead End (2003)
Jack Taggart Sr. in Jeepers Creepers II (2003)
Sam in Sharkskin 6 (2005)
Don Hollenbeck in Good Night, and Good Luck. (2005)
Vice President Hal Gardner in 24 (2006)
Leon C. Nash in RoboCop: Villains of Old Detroit (2007)
John in The Election (2007)
Prof. Klume in Hellholes (2007)
Bobby Stiles in The Flock (2007)
Perry White in Superman/Doomsday (2007)
Mitch in Reservations (2008)
Ted Summers in One Missed Call (2008)
Roger in Love at First Hiccup (2009)
The Devil in Reaper (2007-2009)
Gen. Matthews in Pandemic (2009)
Jack Strongbow in Stuntmen (2009)
Avery in Iodine (2009)
J.B. in Inventing Adam (2010)
Black Velvet in Black Velvet (2011)
Herbert LeeMaster in Fishers of Men (2011)
Jack Taggart Sr. in Jeepers Creepers 3: Cathedral (2011)
Quotes
"I'm playing the Secretary of State of the United States. I'll be going over there in the next couple of weeks."
"I love Matthew. And Bryan Singer's producing it and [it's got] a great cast – James McAvoy, January Jones, Oliver Platt."
"Well, I think I touch on them, yeah, a bit."
Ad blocker interference detected!
Wikia is a free-to-use site that makes money from advertising. We have a modified experience for viewers using ad blockers

Wikia is not accessible if you've made further modifications. Remove the custom ad blocker rule(s) and the page will load as expected.