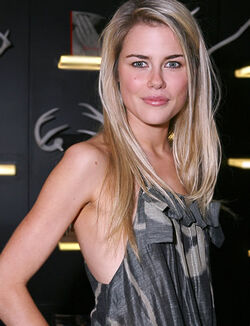 Rachael Taylor portrayed Teri Elizabeth Richards in Man-Thing and Patricia Walker in Jessica Jones, Luke Cage and The Defenders.
Significant roles
Sasha Forbes in Hedland (2005-2006)
Zoe in See No Evil (2006)
Maggie Madsen in Transformers (2007)
Sam Fulton in Bottle Shock (2008)
Jane in Shutter (2008)
Jackie in Washingtonienne (2009)
Heidi in Summer Coda (2010)
Nancy in Red Dog (2011)
Dr. Lucy Fields in Grey's Anatomy (2011)
Abby Sampson in Charlie's Angels (2011)
Anne in The Darkest Hour (2011)
Alex in Any Questions for Ben? (2012)
Jane Van Veen in 666 Park Avenue (2012-2013)
Agent Susie Dunn in Crisis (2014)
Anne Morris in The Loft (2014)
Quotes
"I try not to get ahead of myself and think about it too much because it's easy to get carried away and think about things. You don't want to count your eggs before they hatch. We just found out about the second season today and this is my first show that's gone to a second season so I'm super stoked. I already feel like I have more than my share, in a way, being on Netflix, being in the Marvel Universe, being on this show that has resonated so deeply with people. But, of course, it would be amazing! [Laughs] It's already a privilege to play a history that has so much lineage within the Marvel universe and to take it that one step further, is something that, yeah… I'd love to get my teeth stuck into whatever happens to the character."
Ad blocker interference detected!
Wikia is a free-to-use site that makes money from advertising. We have a modified experience for viewers using ad blockers

Wikia is not accessible if you've made further modifications. Remove the custom ad blocker rule(s) and the page will load as expected.