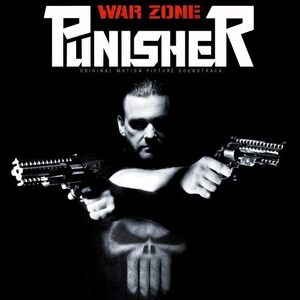 Punisher: War Zone is the soundtrack and score to the 2008 film of the same name composed by Michael Wandmacher released on November 25, 2008 and on December 14, 2008 by Lionsgate Records.
Original Motion Picture Soundtrack
Track list
"War Zone" by Rob Zombie
"Psychosocial" by Slipknot
"Final Six" by Slayer
"Historia Calamitatum" by Rise Against
"Fallen" by Seether
"Bulletproof" by Kerli
"Take Me Away" by 7 Days Away
"The Past Is Proof" by Senses Fail
"Butterfly Wings" by Machines of Loving Grace
"Genesis" by Justice
"Showdown" by Pendulum
"Refuse/Resist" by Hatebreed
"Lunatic" by Static-X
"Days of Revenge" by Ramallah
Original Motion Picture Score
Track list
"Main Titles"
"Lights On!"
"The Burden"
"Rich in Mercy"
"Death of the Loved"
"Infiltrate and Destroy"
"This Is Ground Zero"
"A Pretty Face"
"The Russians"
"A Call to Arms"
"Safe Harbor"
"A Wish for Death"
"Freeze!"
"Two Berettas"
"I Want My Applesauce Back"
"Held Hostage"
"Joyful Mayhem"
"Let the Games Begin"
"LBJ"
"Let Me Put You Out of My Misery"
"Aftermath"
Ad blocker interference detected!
Wikia is a free-to-use site that makes money from advertising. We have a modified experience for viewers using ad blockers

Wikia is not accessible if you've made further modifications. Remove the custom ad blocker rule(s) and the page will load as expected.