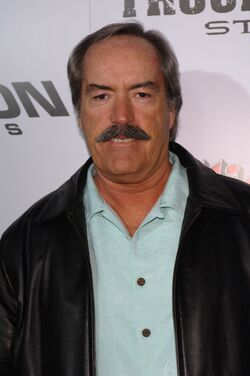 The late Powers Boothe portrayed Gideon Malick in The Avengers and Agents of S.H.I.E.L.D.
Significant roles
Richard III Cast in The Goodbye Girl (1977)
Hankie Salesman in Cruising (1980)
Whalen in Skag (1980)
Dick Hawkins in The Plutonium Incident (1980)
Rev. Jim Jones in Guyana Tragedy: The Story of Jim Jones (1980)
Tony Bonnell in A Cry for Love (1980)
Philip Marlowe in Philip Marlowe, Private Eye (1983-1986)
Mike Walker in A Breed Apart (1984)
Lt. Col. Andrew "Andy" Tanner in Red Dawn (1984)
Bill Markham in The Emerald Forest (1985)
Cash Bailey in Extreme Prejudice (1987)
Jackson Swallow in Into the Homeland (1987)
Ryan in Sapphire Man (1988)
John A. Walker Jr. in Family of Spies (1990)
Mace Ryan in Rapid Fire (1992)
Preacher in Wild Card (1992)
Mace "Sandman" Moutron in Marked for Murder (1993)
Curly Bill Brocious in Tombstone (1993)
Dr. Phillip Benesch in Web of Deception (1994)
Frost in Mutant Species (1995)
Joshua Foss in Sudden Death (1995)
Alexander Haig in Nixon (1995)
Sam in Dalva (1996)
Bartlett McCure in True Women (1997)
Sheriff Potter in U Turn (1997)
Det. Bram Hatcher in The Spree (1998)
Jacques d'Arc in Joan of Arc (1999)
Dr. Ben Pierce in A Crime of Passion (1999)
Captain Pullman in Men of Honor (2000)
Flavius Aetius in Attila (2001)
FBI Agent Wesley Doyle in Frailty (2001)
Gorilla Grodd/Red Tornado in Justice League (2002-2006)
Kelton Reed in Second Nature (2003)
Cy Tolliver in Deadwood (2004-2006)
Senator Roarke in Sin City (2005)
Lex Luthor in Superman: Brainiac Attacks (2006)
Vice President Noah Daniels in 24 (2007)
Jim Van Scoyoc in The Final Season (2007)
George T. Edison in Edison & Leo (2008)
President Noah Daniels in 24 (2008)
The Rancher in Guns, Girls and Gambling (2011)
Aòbert Sidney Johnston in To Appomattox (2013)
Quotes
Please add some quotes from this performer about their work in Marvel Movies!