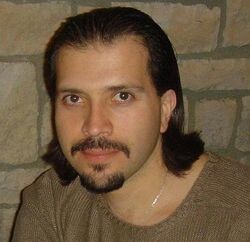 Paul Vasquez portrayed Crease in Ghost Rider: Spirit of Vengeance.
Significant roles
Joey in Freddy's Nightmares (1989)
Jesse Rounder in Hotel Malibu (1994)
David Rodriguez in E.R. (1997-2004)
ATF Agent Orosco in "Robbery Homicide Division" (2002-2003)
Jeremy in Nice Guys (2006)
Sex Addict in "How I Met Your Mother" (2009)
Zipper in Kingshighway (2010)
Dollar in "13" (2010)
Angel Ganz in Sons of Anarchy (2011)
Loco James in "Justified" (2012)
Roger in "Foreign Land" (2016)
Quotes
Please add some quotes from this performer about his work with Marvel movies!
Ad blocker interference detected!
Wikia is a free-to-use site that makes money from advertising. We have a modified experience for viewers using ad blockers

Wikia is not accessible if you've made further modifications. Remove the custom ad blocker rule(s) and the page will load as expected.