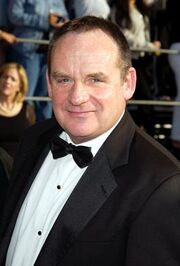 Paul Guilfoyle portrayed Lieutenant Welker in Howard the Duck.
Significant roles
Brock in The Murderer (1976)
Nikos Thompolis in Beverly Hills Cop II (1987)
Andrew Cassedy in The Serpent and the Rainbow (1988)
Calvin Hollis in Wiseguy (1988)
Paul Mantz in Amelia Earhart: The Final Flight (1994)
Wallace in Ransom (1996)
Mickey Cohen in L.A. Confidential (1997)
Chief of Staff Lloyd "Shep" Shepherd in Air Force One (1997)
Howard Ferguson in Primary Colors (1998)
Det. Sammy Kurtz in Exiled (1998)
Roan Brubeck in Secret Agent Man (2000)
Capt. Jim Brass in CSI: Crime Scene Investigation (2000-2011)
Quotes
Please add quotes from the performer about their work in Marvel Movies!
Ad blocker interference detected!
Wikia is a free-to-use site that makes money from advertising. We have a modified experience for viewers using ad blockers

Wikia is not accessible if you've made further modifications. Remove the custom ad blocker rule(s) and the page will load as expected.