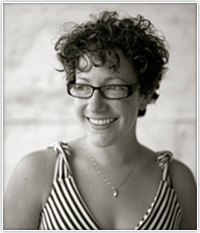 Nicole Perlman is the co-writer of Guardians of the Galaxy and the upcoming films Captain Marvel and Black Widow.
Quotes
"I don't think I've ever had a project where I've been more mindful about the impact that it could have and the importance of it. She's such an incredibly kick-ass character and Kelly Sue DeConnick did a great run with her story arc recently. But here's the thing, if you were just going to do a straight adaptation of the comics, her origin story is very similar to Green Lantern. And obviously, that's not what we want to do. There's a lot of reinvention that needs to happen. And also, she's her own person and she's a great character. We have to be aware of what's happened in other Marvel film and makes sure that her particular storyline is unique and fun and also fits in within this world that's going on at the same time. It's a little bit of an interesting story gauntlet. It's been good to have a partner. It's been an incredible experience. If we can pull it off it could be an incredibly important but also really fun and kick-ass superhero film."
Ad blocker interference detected!
Wikia is a free-to-use site that makes money from advertising. We have a modified experience for viewers using ad blockers

Wikia is not accessible if you've made further modifications. Remove the custom ad blocker rule(s) and the page will load as expected.