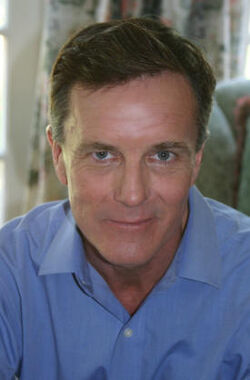 Nicholas Hammond portrayed Peter Parker/Spider-Man in The Amazing Spider-Man, Spider-Man Strikes Back and Spider-Man: The Dragon's Challenge.
Significant roles
Harold in Eight Is Enough (1977)
Commander Arthur Black in The Martian Chronicles (1980)
Hotspur in Richard II (1982)
Bill Johnson in Dallas (1982)
Ferdinand in The Tempest (1983)
Ed Benson in Embassy (1990-1992)
Sir Ivor Creevey-Thorne in Mirror, Mirror (1995)
U.S. President in On the Beach (2000)
Adolphe Menjou in Child Star: The Shirley Temple Story (2001)
Aaron Spelling in Dynasty: The Making of a Guilty Pleasure (2005)
Dr. Nick Standish in MDA (2005)
Agent Smith in The Jesters (2009-2011)
Quotes
Please add some quotes from this perfomer about his work with Marvel movies!
Ad blocker interference detected!
Wikia is a free-to-use site that makes money from advertising. We have a modified experience for viewers using ad blockers

Wikia is not accessible if you've made further modifications. Remove the custom ad blocker rule(s) and the page will load as expected.