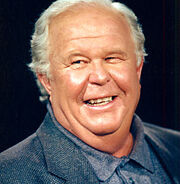 Ned Beatty portrayed Sam Kolawetz in Captain America.
Significant roles
Bobby in Deliverance (1972)
Sheriff J.C. Connors in White Lightning (1973)
Sheriff J.C. Connors in Gator (1976)
Arthur Jensen in Network (1976)
Dr. Gibbs in Our Town (1977)
Edwards in Exorcist II: The Heretic (1977)
Nick Szysznyk in Szysznyk (1977-1978)
Otis in Superman (1978)
Otis in Superman II (1980)
Rep. Leo Ryan in Guyana Tragedy: The Story of Jim Jones (1980)
Ace Stampler in Splendor in the Grass (1981)
Ralph Follett in All the Way Home (1981)
Clyde Torkle in Stroker Ace (1983)
Dean David Martin in Back to School (1986)
Roy Ridnitz in Switching Channels (1988)
Ed Conner in Roseanne (1989-1994)
Santa Claus in Angel Square (1990)
Ernest Weller in Repossessed (1990)
Josef Locke in Hear My Song (1991)
Daniel Ruettiger in Rudy (1993)
Det. Stanley "The Big Man" Bolander in Homicide, Life on the Street (1993-1995)
Gen. Walt Wahlen in Radioland Murders (1994)
Judge Roy Bean in Streets of Laredo (1995)
Farmer Grultrud in Gulliver's Travels (1996)
Lester Boyle in Cookie's Fortune (1999)
Dexter Wilkins in Life (1999)
Det. Stanley "The Big Man" Bolander in Homicide (2000)
Mudduck in I Was a Rat (2001)
Sheriff Abe McConnell in Where the Red Fern Grows (2003)
Jack Delorean in The Walker (2007)
Senator Charles F. Meachum in Shooter (2007)
Doc Long in Charlie Wilson's War (2007)
Twinky LeMoyne in In the Electric Mist (2009)
Chester Conway in The Killer Inside Me (2010)
Lotso in Toy Story 3 (2010)
Quotes
Please add quotes from this performer about their work in Marvel Movies!
Ad blocker interference detected!
Wikia is a free-to-use site that makes money from advertising. We have a modified experience for viewers using ad blockers

Wikia is not accessible if you've made further modifications. Remove the custom ad blocker rule(s) and the page will load as expected.