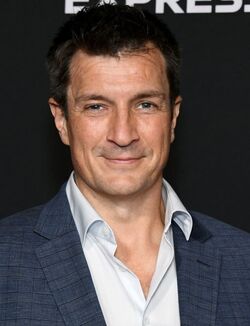 Nathan Fillion  portrayed a monstrous Kyln inmate in Guardians of the Galaxy and Simon Williams in Guardians of the Galaxy Vol. 2.
Significant roles
Joey Riley Buchanan in One Life to Live (1994–1997, 2007)
Pvt. James Frederick 'Minnesota' Ryan in Saving Private Ryan (1998)
Johnny Donnelly in Two Guys and a Girl (1998–2001)
Malcolm 'Mal' Reynolds in Firefly (2002)
Caleb in Buffy the Vampire Slayer (2003)
Gao the Lesser in Jade Empire (2005)
Malcolm 'Mal' Reynolds in Serenity (2005)
Vigilante in Justice League Unlimited (2005-2006)
Bill Pardy in Slither (2006)
Alex Tully in Drive (2007)
Dr. Adam Mayfair in Desperate Housewives (2007–2008)
Abe Dale in White Noise: The Light (2007)
Dr. Jim Pomatter in Waitress (2007)
Sergeant Reynolds in Halo 3 (2007)
Runner in Trucker (2008)
Captain Hammer in Dr. Horrible's Sing-Along Blog (2008)
Richard Castle in Castle (2009–present)
Steve Trevor in Wonder Woman (2009)
Gunnery Sergeant Buck in Halo 3: ODST (2009)
Gunnery Sergeant Buck in Halo: Reach (2010)
The Holy Avenger in Super (2010)
Hal Jordan/Green Lantern in Green Lantern: Emerald Knights (2011)
Hal Jordan/Green Lantern in Justice League: Doom (2012)
Dogberry in Much Ado About Nothing (2012)
Johnny Worthington in Monsters University (2013)
Hal Jordan/Green Lantern in Justice League: The Flashpoint Paradox (2013)
Hermes in Percy Jackson: Sea of Monsters (2013) 
Quotes
"I was going to be an Easter egg in the background…[there was] a Simon Williams Film Festival, and I was in all of the movie posters."
"If you know the Marvel Universe, Simon Williams becomes Wonder Man, becomes an Avenger. So, he's part of that universe. It was a neat little Easter egg, it was a neat little piece of the universe. It didn't get into the movie. That's fine. That happens all the time. I still had the same wonderful experience. But moving forward, I don't know, let me see what we can do with this opportunity. That's just a cleverly disguised opportunity. Am I right?"
Ad blocker interference detected!
Wikia is a free-to-use site that makes money from advertising. We have a modified experience for viewers using ad blockers

Wikia is not accessible if you've made further modifications. Remove the custom ad blocker rule(s) and the page will load as expected.