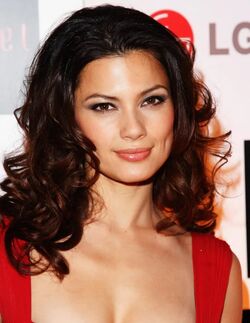 Natassia Malthe portrayed Typhoid in Elektra.
Significant roles
Janine in Lake Placid (1999)
Marisa in Trapped (2001)
Charisse in Call Me: The Rise and Fall of Heidi Fleiss (2004)
Frangiapani in Confessions of a Sociopathic Social Climber (2005)
Gina Lopez in Chaos (2005)
Sonja in Skinwalkers (2006)
Ayane in DOA: Dead or Alive (2006)
Rayne in Blood Rayne: Deliverance (2007)
Rayne in Blood Rayne: The Third Reich (2010)
Quotes
"I auditioned for the part. Basically when I saw it, I thought it would be really right for me. Typhoid is a villain. She kills with her kiss and her touch. Basically, I seduce people."
"I was not sick the whole entire time and then the very two days of the kissing scene, I had bronchitis. So I used Listerine between every shot. But it was fun and Jennifer was lovely to work with."
"I think if they bring Typhoid Mary back into the second one, I'll definitely be doing martial arts. But this one, we held it to her touch and her kisses, and her schizophrenia."
"Thypoid costume's a kimono. A short mini-skirt and long in the back a – a beautiful kimono. And I have a Mohawk to make her look tougher. I have three costumes. One's a Gucci outfit – just absolutely beautiful. It's just stunning with little tiny folds in it everywhere. It's very expensive. I wish they would have given me one because they had five (laughing). And then this other one Lisa, our costume designer, made. She's brilliant. It's this see-through thing with black leather pants that are tied at the bottom. [It's] suffocatingly tight."
"Well, you know, in my fantasy as a kid – even growing up – you always fantasize yourself being a spy or an assassin. Like being tough and all that stuff. So yeah, I think it's fun. It's a movie where you can have a lot of fun because your child comes out."
Ad blocker interference detected!
Wikia is a free-to-use site that makes money from advertising. We have a modified experience for viewers using ad blockers

Wikia is not accessible if you've made further modifications. Remove the custom ad blocker rule(s) and the page will load as expected.