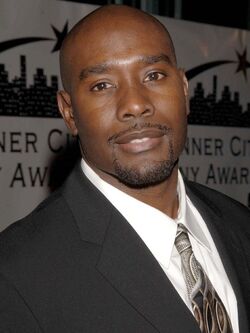 Morris Chestnut portrayed Marcus Williams in Kick-Ass 2.
Significant roles
Ricky Baker in Boyz n the Hood (1991)
Bobby Zachs in Under Siege 2: The Dark Territory (1995)
ICU Nurse Frank "Rambo" Bacon in E.R. (2000)
Tracy Reynolds in Like Mike (2002)
49er/Donald Robert Johnson in Hald Past Dead (2002)
Evan Fields in Breakin' All the Rules (2004)
Gordon Mitchell in Anacondas: The Hunt for the Red Orchid (2004)
Tommy Drake in Ladder 49 (2004)
Travis Sanders in The Game Plan (2007)
Dave Johnson in Not Easily Broken (2009)
Ryan Nichols in V (2009-2011)
Quotes
Please add some quotes from this perfomer about his work with Marvel movies!
Ad blocker interference detected!
Wikia is a free-to-use site that makes money from advertising. We have a modified experience for viewers using ad blockers

Wikia is not accessible if you've made further modifications. Remove the custom ad blocker rule(s) and the page will load as expected.