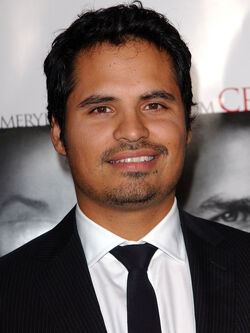 Michael Peña portrayed Luis in Ant-Man and will reprise the role in Ant-Man and the Wasp.
Significant roles
Ernesto in My Fellow Americans (1996)
Brian Burke in Felicity (1999-2000)
Ignacio in Gone in Sixty Seconds (2000)
Garcia in Buffalo Soldiers (2001)
Fly in Roswell (2001)
Miguel in Men, Women & Dogs (2001)
Guillermo in The United States of Leland (2003)
Jose Mendez in The Calcium Kid (2004)
Daniel in Crash (2004)
Omar in Million Dollar Baby (2004)
Det. Armando Renta in The Shield (2005)
Will Jimeno in World Trade Center (2006)
Nick Memphis in Shooter (2007)
Ernest Rodriguez in Lions for Lambs (2007)
Dennis in Observe and Report (2009)
Det. Vargas in My Son, My Son, What Have Ye Done (2009)
Frank Garcia in Everything Must Go (2010)
Mr. Cisneros in Eastbound & Down (2010)
Jesus Martinez in The Lincoln Lawyer (2011)
Jimmy in The Good Doctor (2011)
Chango in 30 Minutes or Less (2011)
Mike Zavala in End of Watch (2012)
Officer Navidad Ramirez in Gangster Squad (2013)
Tito in Turbo (2013)
Paco Hernandez / Sheik Abdullah in American Hustle (2013)
Mark Solano in Gracepoint (2014)
Cesar Chavez in Cesar Chavez (2014)
Major Rick Martinez in The Martian (2015)
Abigor in Hell & Back (2015)
Sergeant First Class Sam Diller in 12 Strong (2018)
Red in A Wrinkle in Time (2018)
Quotes
"So far, it's really really good working on the movie. Paul Rudd is amazing and I know he's gonna be awesome as Ant-Man. David Dastmalchian is a really good actor and he's really funny. I can't wait to keep shooting."
"Dude! It's a machine, man! And I understand now because, like, in order for me to get a script, I have to sign stuff. Somebody's got to deliver it straight to me, and I can only have one copy. They're very, very like protective of their scripts. And I didn't quite understand why. And then I've seen like a couple articles on how a movie script gets leaked, especially for Marvel, then the movie doesn't do as well. Because it gets out –everybody knows the story. And with a Marvel movie in particular, you want to be surprised. You want to be awed by something. And it doesn't really work because it's always kind of a mystery. So if you know everything about the murder mystery, it's not gonna be as exciting."
"I read the script with Edgar Wright in the beginning. It was really cool. He's another guy that when you talk to him and you realize his vision elevates what was already awesome on the page. Then, it didn't work out with him. But, I'm still on it. It's that Marvel way of doing movies, which is really interesting. Kevin Feige is killing it."
"So, I'm doing Extinction next, that's a Universal movie. And then I'm doing Ant-Man, Part 2."