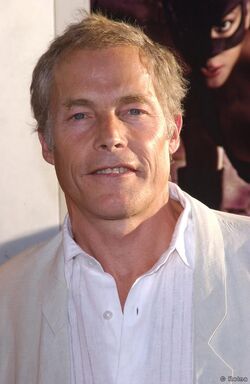 The late Michael Massee voices Dr. Bruce Banner in Ultimate Avengers and Ultimate Avengers 2, and portrayed Gustav Fiers/The Gentleman in The Amazing Spider-Man and The Amazing Spider-Man 2.
Significant roles
Det. Baines in Home of Angels (1994)
Funboy in The Crow (1994)
Luke in Burnzy's Last Call (1995)
Vernon Ephesian in The X-Files (1996)
Eddie Parker in One Fine Day (1996)
Ian Benjamin in Jamaica Beat (1997)
Andy in Lost Highways (1997)
Gage in Playing God (1997)
Mark in Guy (1997)
Dr. Helmut Fahrmeyer in Bad City Blues (1999)
Ralph Pines in The White River Kid (1999)
Ira Gaines in 24 (2001-2002)
Adrian Geiger in Momentum (2003)
Lucius Belyakov in Carnivàle (2003-2005)
Armando in Catwoman (2004)
Isaiah Haiden in Revelations (2005)
Spellbinder in The Batman (2005)
Jacob Dawes in Criminal Minds (2006)
Edward Vicente in Pandemic (2007)
Kiril in Cold Case (2007)
Supershep in Underdog (2007)
Kubrick in Supernatural (2007)
Duncan Mercer in Shark (2008)
Jordie Black in Criminal Intent (2008)
Casey Steele in CSI: NY (2009)
Dyson Frost in FlashForward (2009-2010)
Charles Hoyt in Rizzoli & Isles (2010-2011)
Quotes
Please add some quotes from this performer about their work in Marvel movies!
Ad blocker interference detected!
Wikia is a free-to-use site that makes money from advertising. We have a modified experience for viewers using ad blockers

Wikia is not accessible if you've made further modifications. Remove the custom ad blocker rule(s) and the page will load as expected.