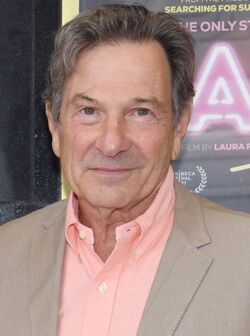 Michael Brandon portrayed Senator Brandt in Captain America: The First Avenger.
Significant Roles
William Bast in James Dean (1976)
Dr. Jim Sandman in Promises in the Dark (1979)
David Marquette in Navy (1983-1984)
Keith Sindell in The Seduction of Gina (1984)
Lt. James Dempsey in Dempsey and Makepeace (1985-1986)
Tom Lepski in Try This One for Size (1989)
Tom Lepski in Passez une bonne nuit (1990)
Tom Lepski in Le denier du colt (1990)
Tom Lepski in Présumé dangereux (1990)
Ted Kramer in Home Fires (1992)
D. A. Adam Dawson in Ally McBeal (1998)
A. D. A. Adam Dawson in The Practice (1998-1999)
Greg Taylor in The Knock (1999)
Captain Frank Candy in Jonathan Creek (1999)
Frank Scott in Dinotopia (2002-2003)
Chuck Newman in Dead Man Weds (2005)
Louis Dreyfuss in Metropolitan Police (2007)
General Sanchez in Doctor Who (2008)
Bill Tucker in After You've Gone (2008)
Wilfrid Pelletier in Toscanini in His Own Words (2009)
Elliot Salad in Episodes (2012)
Mr. Woolworth in Mr. Selfridge (2013)
Quotes
Please add some quotes from this performer about their work in Marvel movies!
Ad blocker interference detected!
Wikia is a free-to-use site that makes money from advertising. We have a modified experience for viewers using ad blockers

Wikia is not accessible if you've made further modifications. Remove the custom ad blocker rule(s) and the page will load as expected.