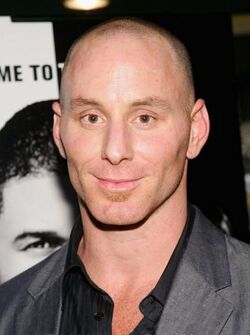 Matt Gerald portrayed White Power Dave in Marvel One-Shot: All Hail the King and Melvin Potter in Daredevil.
Significant roles
Nick in S.W.A.T. (2003)
Tommy Hisk in The Shield (2004)
Dauber in The Unit (2006-2008)
Vincent Lafoon in CSI: Crime Scene Investigation (2007)
Krebbs in Life (2007)
Detective Ryan in Choke (2008)
Corp. Lyle Wainfleet in Avatar (2009)
Hodges in Red Dawn (2012)
Ray Speltzer in Dexter (2012)
Havoc in G.I. Joe: Retaliation (2013)
Roag in Escape Plan (2013)
Quotes
Please add some quotes from this performer about his work with Marvel movies!
Ad blocker interference detected!
Wikia is a free-to-use site that makes money from advertising. We have a modified experience for viewers using ad blockers

Wikia is not accessible if you've made further modifications. Remove the custom ad blocker rule(s) and the page will load as expected.