Plot
Following Hulk's murderous rampage through Manhattan, Dr. Bruce Banner was sentenced to execution, bringing an end to The Hulk... Or did it? When reports of a mysterious creature start creeping in from around the world, Nick Fury starts to get suspicious. Not only is Fury worried about Banner's rage turning him into an unstoppable monster, but his existence is the once secret that can bring down Nick Fury! Turning to the only man he can trust, Fury enlists Wolverine to help, and Wolverine is glad to take down Banner... by any means necessary!
This animated adventure from Marvel Comics takes place after Dr. Bruce Banner has supposedly been executed after a murderous rampage he enacted as the Hulk. But when reports come in of sightings that sound eerily like the Hulk, Nick Fury gets concerned. Not because Banner is alive, but because the fact that he's alive is supposed to be top secret. With nowhere left to turn, Fury turns to Wolverine to track the Hulk down -- for good.
Production
To be added
Video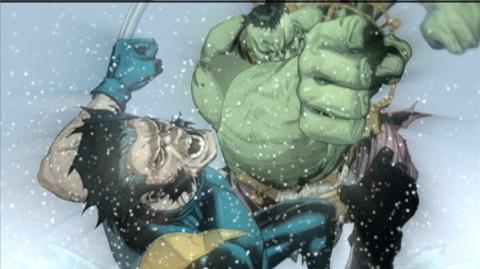 Ad blocker interference detected!
Wikia is a free-to-use site that makes money from advertising. We have a modified experience for viewers using ad blockers

Wikia is not accessible if you've made further modifications. Remove the custom ad blocker rule(s) and the page will load as expected.