Marvel Cinematic Universe: Phase One - Avengers Assembled
Comments

0
Share
Ad blocker interference detected!
Wikia is a free-to-use site that makes money from advertising. We have a modified experience for viewers using ad blockers

Wikia is not accessible if you've made further modifications. Remove the custom ad blocker rule(s) and the page will load as expected.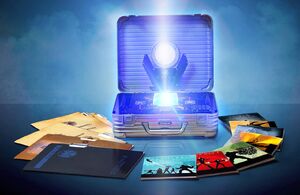 Marvel Cinematic Universe: Phase One - Avengers Assembled is a limited edition ten disc set that features Iron Man, The Incredible Hulk, Iron Man 2, Thor, Captain America: The First Avenger and The Avengers was released in Spring 2013.
Collection Includes
Iron Man (Blu-ray)
The Incredible Hulk (Blu-ray)
Iron Man 2 (Blu-ray)
Thor (Blu-ray 3D and Blu-ray)
Captain America: The First Avenger (Blu-ray 3D and Blu-ray)
The Avengers (Blu-ray 3D and Blu-ray)
Bonus Disc - "The Phase One Archives" (Blu-ray)
Collectible packaging with exclusive memorabilia from the Marvel Cinematic Universe
Gallery