The Marvel Cinematic Universe is a shared fictional universe which crosses over superhero films independently produced by Marvel Studios. The timeline below chronicles the major events that led to each disparate Marvel Universe character to the Avengers film produced by Marvel Studios. Avenger team members include Captain America, Thor, Hulk, Iron Man, Hawkeye, and Black Widow.
Timeline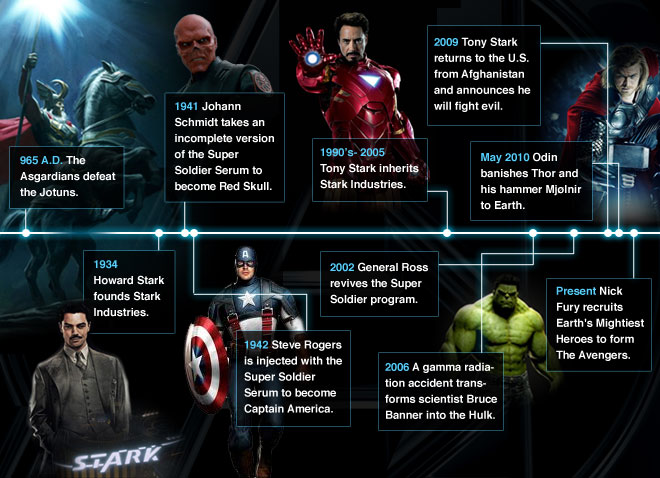 2987 B.C.
965 A.D.
12th Century
The Asgardian that would come to be known as Elliot Randolph was a stone mason for thousands of years before being recruited for a military mission to Midgard. Tired of his mundane existence in Asgard and desiring to travel the Realms, Randolph signed on. while on Earth, the Asgardian served with an Asgardian army called "The Berserkers" who gained superior strength, even by Asgardian standards, by touching a device known as the Berserker Staff, which brought all of the rage and hatred that the wielder keeps suppressed and transforms it into strength. During his time on Earth, Randolph fell in love with the planet and its people, and when the rest of the Asgardian host returned home, Randolph stayed behind. The Berserker Staff was left behind as well. Randolph did not care for the thing or the power it possessed, and so he broke the staff into three pieces and spread them across Europe. (Agents of S.H.I.E.L.D. "The Well")
Unknown Date
1546
The Asgardian who would become known as Elliot Randolph lived on Earth for several centuries until the year 1546, when he met and fell in love with a French girl. He told her his story and her brother, who happened to be a priest, wrote the story down and created the legend of "The Warrior Who Stayed". (Agents of S.H.I.E.L.D. "The Well")
1918
1924
June 1st

In Hell's Kitchen, Manhattan, a young Steve Rogers talks to his mother about his father. (Captain America: First Vengeance, tie-in comic #1)
1930
1930
September 1st

In Hell's Kitchen, Manhattan, Steve meets James Buchanan "Bucky" Barnes during a back ally scuffle with some bullies. The two become friends. (Captain America: First Vengeance, Digital Comic #1)
1933
1934
June 30th

Johann Schmidt meets Adolf Hitler, Himler and Erst Kaufmann head of the Special Weapon Division meet after a Wagner opera, where Schmidt reveals his theory that Norse gods and their magic could be more than myth.
Dr. Abraham Erskine and Howard Stark meet at an Engineering Conference.
Johann Schmidt assassinates Erst Kaufmann and seizes control of his weapons program. (Captain America: First Vengeance, Digital Comic #3)

July 5th
1939
1936
The funeral of Steve Rogers' mother is held. (Captain America: The Winter Soldier)
February

Howard Stark begins a demonstration which would showcase vibranium, a metal discovered by Stark Industries researchers in Africa, and then meets with Colonel Philips. After being attacked by HYDRA assassins Stark agrees to join Col Philip's newly created Strategic Science Reserve (SSR).
Johann Schmidt takes part in an test involving Erskine and his Super Soldier Serum which turns Schmidt into what he would become known as the Red Skull. Erskine is rescued by Agent Thirteen (Peggy Carter) and brought into the (SSR) (Captain America: The First Avenger)
1942
1943
Howard Stark hosts the New York World's Fair, where a "Technology of the Future" exhibit is being presented by Howard himself. Notable demonstrations were the Original Human Torch and a flying car based of repulsor technology. The success of the presentation would lead Howard to later expand the event into his own Stark Expo. (Captain America: The First Avenger, Iron Man 2)
1944
Rogers invades a castle in the Nazi occupied Danish Straits. The castle is controlled by Nazi special weapons unit HYDRA. Here Cap fights a Nazi wearing an arc reactor powered battle suit, as well as an arc powered tank. Schmidt attempts to destroy them by using a mystical Viking runestone, but Rogers slows the relic from exploding to allow time for the Commandos to escape. (Captain America: First Vengeance)
Rogers boards and captures the HYDRA submarine Leviathan. (Captain America & Thor: Avengers!)
Rogers invades Castle Zemo in Bavaria. He battles Baron Wolfgang von Strucker, Madame Hydra, and Iron Cross. Arnim Zola recreates the Super Soldier Serum from Rogers' blood but Rogers destroys the sample. (Captain America: Super Soldier)
1945
1946
1963
1964
1967
1969
1970s
1980s
1990s - 2005
2006 - 2008
Akela Amador spends four years caged in a copper mine in the Shanxi Province. Amador's jailers performed multiple types of surgery on Amador, eventually installing a bionic eye in her head. Through this eye, she received instructions for jobs she was to perform. At first, she ignored the instructions, but found that she experienced great pain if she did. (Agents of S.H.I.E.L.D. "Eye-Spy")
A gamma radiation accident transformed scientist Bruce Banner into the Hulk. During his ensuing rampage, Banner hospitalizes his then lover, Betty Ross, General Ross' daughter. Banner goes on the run from General Thaddeus Ross, who wants to use Banner's power as a weapon. (The Incredible Hulk)
Nick Fury meets with Banner in a bar, for see what he can do and in attempt to find a Super Soldier for themselves. Hulk escapes the bar. After this encounter, Fury declares that everything else including Banner is secondary, and that General Ross is who they must deal with. (The Incredible Hulk: The Fury Files)
Agent Ward was in Georgia in 2008. (Agents of S.H.I.E.L.D. "The Hub")
HYDRA's personal  assassin, the Winter Soldier was sent to kill a nuclear scientist. He found his target being escorted by KGB Agent, Natasha Romanoff. Without hesitation, he attacked his target, sending him and Romanoff over a cliff. Finding Romanoff saved the target from falling to his death, the Winter Soldier fired a single round through Romanoff's stomach and into the scientist, effectively killing him. He then made his getaway without pursuit. (Captain America: The Winter Soldier)
While Bruce Banner was on the run, he hid on a truck heading to Canada where he was arrested by the police as the truck was passing by the borders, Banner ended up transforming into the Hulk and causing a lot of mess. (The Incredible Hulk: The Big Picture)
2009
May
June
On June 25, Aldrich Killian begins work on Extremis, using it on various people with missing limbs and disabilities. (Iron Man 3)
August
Stark escapes using his Iron Man armor prototype and learns the terrorist cell was armed with weapons created by Stark Industries Dismayed, Stark returns to the US and announces he will no longer make weapons. (Iron Man)
September - October
October
2010
April
May (Fury's Big Week)
Day 1
Day 2
Day 3
Day 4
Day 5
Day 6
Day 7
June
July-December
Late 2010
2011
January-March
April
Loki Laufeyson's self-exile brings him into contact with Thanos who gives him knowledge not only of the Tesseract, a cosmic cube left on earth, but also ancient knowledge of more potent magic as well. Thanos gives him a golden scepter with a blue gem that acted both as a weapon and as a mind control device. Thanos introduced Loki to the leader of the Chitauri and the three formed a pact that would allow him to become ruler of the Earth. (The Avengers, Thor: The Dark World Prelude)
Frigga sees the meeting between Loki and Thanos, discovering that he was still alive. (Thor: The Dark World Prelude)
Tony Stark completes the constructicon on Stark Tower and uses an Arc Reactor as a power supply to have it power itself for over a year. (The Avengers)
The Tesseract begins to emit low levels of Gamma Radiation. Nick Fury arrives at the scene moments before Loki Laufeyson travels through a portal generated by the Tesseract and assaults the base. Loki then posseses Clint Barton, Erik Selvig and several S.H.I.E.L.D. Agents with the Chitauri scepter given to him by Thanos before escaping the facility with the Tesseract. Nick Fury proclaims that Earth is now at war and reactivates The Avengers Initiative. (The Avengers)
Natasha Romanoff interrogates Georgi Luchkov. Agent Coulson calls and tells her that Clint Barton has been compromised. (The Avengers)
Heimdall confirms that Loki is on Earth after the Tesseract. (Thor: The Dark World Prelude)
Nick Fury sends Natasha Romanoff to find Bruce Banner and convince him to help them trace the Gamma Radiation traces given off by the Tesseract, and sends Phil Coulson to meet with Tony Stark to convice him to assist S.H.I.E.L.D. in finding the Tesseract. Meanwhile, Fury visits Steve Rogers and gets him to join the Avengers Initiative. (The Avengers)
S.H.I.E.L.D. contacts Jane Foster and Darcy Lewis and send them to Tromso, Norway. (Thor: The Dark World Prelude)
Loki Laufeyson sets up shop in an unknown location and gains enough support to allow Selvig to build the device to open the gateway for the Chitauri forces to come through. He is eventually contacted by the Other, emissary of Thanos and is reminded that if he fails, there will be no place in the universe he will be able to hide. Now fearful of any kind of failure, he consults with Barton on what was the next step which is getting iridium to help stabilize the wormhole and knows where to get it. (The Avengers)
Arriving on S.H.I.E.L.D.'s main base, the Helicarrier, Rogers, Romanoff and Banner all meet with Fury and see the Helicarrier in action. (The Avengers)
Loki is spotted in Stuttgart, Germany. Rogers is then sent to go after him, armed with his trusty shield and a new modified uniform, along side Romanoff. (The Avengers)
Odin uses Dark energy to send back Thor to Midgard, as Thor heads back he ends up landing in a forest. (Thor: The Dark World Prelude)
Captain America confronts Loki. Iron Man joins him and Loki surrenders to S.H.I.E.L.D. (The Avengers)
En route back to the Helicarrier, Thor returns to get Loki and the Tesseract back. Thor tries to reason with Loki but is stopped by Stark and after a battle with him that is intervened by Captain America, do they realize they are after the same thing and escort Loki to the Helicarrier. (The Avengers)
the Avengers begin to argue with one another about Loki, the Tesseract being used to possibly create weapons as deterrence to future threats and to some extent, with one another. At the same time, Barton, along with other brainwashed agents, attack the Helicarrier to free Loki. Stark and Rogers try to fix the damaged engine, while Romanoff had to fend off the threat of Banner, now transformed into the Hulk but survives only with the intervention of Thor. (The Avengers)
Loki escapes but kills Phil Coulson and jettisons Thor out of the Helicarrier, trapped in an cage meant to be used for the Hulk. The Hulk is also jettisoned out of the Helicarrier. However, the death of Coulson finally brings the team together. Rogers, Stark, Romanoff and Barton, now freed of Loki's control, decide to go to New York after Loki. (The Avengers)
War Machine arrives in Hong Kong and continues fighting the Ten Rings organization. (Iron Man 3 Prelude)
Loki commandeers Stark Tower to be used as the location to open the wormhole for the Chitauri to invade as it has a clean supply of energy thanks to the Arc Reactor powering it, But also as a means to satisfy his own ego. Tony Stark arrives and confronts Loki to "threaten" him, assuring Loki that the Avengers will defeat him. Selvig activates the device powered by the Tesseract, opening the gateway for the Chitauri forces to come through and begin their attack on the city. (The Avengers)
Tony contacts Rhodes, asking him if he can help him on New York. But Rhodes is unable to make it in time. (Iron Man 3 Prelude)
The Avengers rally in defense of New York and follow the command of Captain America. The Hulk beats Loki into submission. The team hold off the invasion well but are outnumbered by the aliens. A nuclear missile is sent by the World Security Council to destroy the city. Iron Man intercepts the missile and throws it through the portal, destroying the Chitauri fleet. The invaders die immediately. Hulk catches an unconscious Stark, who is revived. The Avengers arrest Loki. (The Avengers)
After the battle, the Avengers head to a Shawarma restaurant for eat. (The Avengers)
James Rhodes meets the Avengers. (Iron Man 3 Prelude)
Thor returns to Asgard with the Tesseract and Loki. (The Avengers)
the Avengers go their separate ways: Barton and Romanoff return to S.H.I.E.L.D., Banner and Stark leave for new horizons and Rogers rides off to explore the world he is now a part of. However, Fury realizes, reminded by Maria Hill, that should another similar threat come, the Avengers would be needed again. (The Avengers)
The Other informs Thanos of Loki's defeat and warns him that going against Earth would be to court death. Thanos smiles. (The Avengers)
Loki and Thor make it back to Asgard, Odin no longer considers Loki his son and sends him to the Dungeons. (Thor: The Dark World Prelude)
Tony Stark begins building his Iron Legion army. (Iron Man 3 Prelude)
Pepper Potts goes to live with Stark. (Iron Man 3 Prelude)
A member of A.I.M reports to The Mandarin that they're hidden agents under the disguise of Ten Rings members managed to scan the War Machine armor, thus obtaining invaluable information data for use against Tony Stark. (Iron Man 3 Prelude)
Claire Wise and Benjamin Pollack find a Chitauri gun and start using it to get anything they want. (Item 47)
Jasper Sitwell apprehends Claire Wise and Benjamin Pollack and recruits them into S.H.I.E.L.D. (Item 47)
Thor and Heimdall use the Tesseract to rebuild the Bifrost. (Thor: The Dark World Prelude)
May-November
Tony and Rhodey fight The Melter (Iron Man: The Coming of the Melter)
Days after Coulson's death, Nick Fury ordered extreme measures be taken to save him. S.H.I.E.L.D. medics cut open Coulson's skull and connected his brain to a machine of unknown origin. By stimulating the sensors of the brain (and after at least seven operations), Fury's doctors were actually able to bring Coulson back to life days after he had been killed. The process was extremely, inhumanly agonizing for Coulson, who begged the doctors to let him die. During the process, they altered some of his memories to make him believe that he was revived in Tahiti, in order to cope with the pain he felt and to make him less suicidal, as he wanted to die due to the intense agony he was experiencing. (Agents of S.H.I.E.L.D. "The Magical Place")
December
18th
Tony inserts a micro-repeater implanting device into his arm which allows him to summon the new Mark XLII armor with his thoughts. (Iron Man 3)
19th
Tony's Iron Legion starts creating friction with his girlfriend Pepper Potts. A string of bombings by terrorist the Mandarin has left intelligence agencies bewildered by lack of forensic evidence. (Iron Man 3)
When Happy Hogan is badly injured in an attack on the Chinese Theatre, which was triggered by an Extremis subject, Jack Taggert. (Iron Man 3)
20th
Tony Stark visits Happy in a hospital. While walking out a group of reporters try to interview him about the Mandarin. Tony overcomes his stupor and issues a televised threat to the Mandarin . (Iron Man 3)
The Mandarin responds to Tony's threat by destroying Stark's home with helicopter gunships. Maya Hansen, who had come to warn Tony and Pepper. Tony was pulled into the ocean while his home demolished over him, just barely escaping. Pepper and Maya went into hiding after they survive the attack. (Iron Man 3)
22th
Tony then finds himself in rural Tennessee after his artificial intelligence J.A.R.V.I.S. followed a flight plan from Stark's investigation into the Mandarin. Stark's experimental armor lacks sufficient power to return to California, and the world believes him dead. (Iron Man 3)
Teaming with young Harley Keener, Tony investigates the remains of a local explosion bearing the hallmarks of a Mandarin attack. He discovers the "bombings" were triggered by soldiers subjected to Extremis, which at this stage of development can cause certain subjects to explosively reject it. After veterans started exploding, their deaths were used to cover up Extremis' flaws by manufacturing a terrorist plot. Stark witnesses Extremis firsthand when Mandarin agents Ellen Brandt and Eric Savin attack him, Tony improvised and used his innovative skills and knowledge with different equipment and technology to outsmart them and seemingly escape, killing Brandt. (Iron Man 3)
23rd
With Harley's help, Tony traces the Mandarin to Miami and infiltrates his headquarters using improvised weapons. Inside he discovers the Mandarin is actually a British actor, Trevor Slattery, who says that he is oblivious to the actions carried out in his name. The Mandarin is a creation of Killian, who appropriated Hansen's Extremis research as a cure for his own disability and expanded the program to include injured war veterans. After capturing Stark, Killian reveals he is the true Mandarin; he has kidnapped Pepper and subjected her to Extremis to gain Stark's aid in fixing Extremis' flaws and thereby saving Pepper. Killian kills Hansen when she has a change of heart about the plan. (Iron Man 3)
24th
Killian has also manipulated American intelligence agencies regarding the Mandarin's location, luring Iron Patriot into a trap to steal the armor. Stark escapes and reunites with Rhodes, discovering that Killian intends to attack President Ellis aboard Air Force One. Remotely controlling his Iron Man armor, Stark saves some surviving passengers and crew but cannot stop Killian from abducting Ellis. They trace Killian to an impounded damaged oil tanker where Killian intends to kill Ellis on live television. The vice president will become a puppet leader, following Killian's orders in exchange for Extremis to cure his daughter's disability.  (Iron Man 3)
25th
On the platform, Tony goes to save Potts, and Rhodes saves the president. Stark summons the Iron Legion, controlled remotely by J.A.R.V.I.S. to provide air support. Rhodes secures the president and leads him to safety, while Stark discovers Potts has survived the Extremis procedure. However, before he can save her, a rig collapses around them and she falls to her apparent death. Stark confronts Killian and traps him in an Iron Man suit that self-destructs, but fails to kill him. Potts, whose Extremis powers allowed her to survive her fall, intervenes and kills Killian. (Iron Man 3)
After the battle, Tony orders J.A.R.V.I.S. to remotely destroy each Iron Man suit as a sign of his intention to devote more time to Potts. The vice president and Slattery are arrested. (Iron Man 3)
27th
Tony removed Extremis from Pepper body. (Iron Man 3)
Tony undergoes surgery to remove the shrapnel embedded near his heart. He pitches his obsolete chest arc reactor into the sea, musing he will always be Iron Man. (Iron Man 3)
2012
January
Tony Stark goes to speak to Bruce Banner about the Mandarin and Killian incident, but Banner falls asleep as Stark begins his story, stating he's not that type of doctor. (Iron Man 3)
February-December
2013
Characters
Movies
In chronological order:
Phase One
Phase Two
Phase Three
Comics
In chronological order:
Phase One
Phase Two
Television series
In chronological order:
Phase Two
Phase Three
Video Games
In chronological order:
Phase One
Phase Two
References to the broader Marvel Cinematic Universe
Captain America: The First Avenger
Tønsberg, Norway is the same place where the war between the Asgardians and the Frost Giants took place in the beginning of Thor.
Johann Schmidt references Odin's chamber moments after taking the Tesseract is Asgardian in origin.
Howard Stark is the father of Tony Stark.
The Stark Expo theme introduced in Iron Man 2 ("Make Way for Tomorrow Today") is heard after Howard Stark's presentation at the 1942 World's Fair.
Stark presents an early version of the repulsor technology that his son would perfect in Iron Man.
When Steve Rogers is injected with the Super Soldier Serum, the film cuts to a close up of his eyes opening wide, a shot better known in association with the transformation of the Hulk. The film The Incredible Hulk ties Bruce Banner's gamma ray research into trying to re-create the super soldier serum, (Banner's experiment went wrong, which resulted in Banner's first Hulk transformation) which was destroyed here.
Consistent with the serum seen in The Incredible Hulk, it is blue in color and is activated by Vita-rays. The canister containing the serum in The Incredible Hulk was labeled with a Vita-ray radiation warning.
Tony Stark had a Captain America shield prototype in his lab in the two Iron Man movies. Stark's father, Howard, is depicted here designing the shield and Captain America's armor. Obadiah Stane also mentions in Iron Man that Tony's father worked on the Manhattan Project, which ties into his World War II activities depicted here.
When the Red Skull is seemingly destroyed by the Tesseract, he appears to be transported across space rather than destroyed, shooting into what seems to be Yggdrasil mentioned in Thor.
The Asgardians, referred to as "gods", are mentioned.
Marvel One-Shot: Agent Carter
Iron Man
Iron Man 2
The Incredible Hulk
A Funny Thing Happened on the Way to Thor's Hammer
Thor
Fury's Big Week
The Consultant
The Avengers
Howard Stark found the Tesseract at the end of Captain America: The First Avenger, studied it as seen in his notebook in Iron Man 2 and it was in S.H.I.E.L.D's custody ever since as seen at the end of Thor.
Erik Selvig is shown to be working on the cosmic cube, trying to find out how to harness its power. This shows that it is a continuation from Thor.
In the beginning of the film, Selvig made mention to Fury that the Tesseract was giving off low levels of gamma radiation, nothing harmful to hurt humans. However, Fury reminds him that even low levels of gamma radiation can be harmful, clearly reminding him of what happened to Bruce Banner and how he became the Hulk.
Steve Rogers has a number of flashbacks to his time in the war as he punches a boxing bag, many of these are events that occurred in Captain America: The First Avenger. His montage also includes a glimpse of his half-frozen body and a S.H.I.E.L.D. scientist exclaiming that he's alive, a moment that was not seen in the earlier film.
Steve Rogers discovered that S.H.I.E.L.D. phase 2's contingency plan is to use the Cosmic Cube's energy to make weapons using Arnim Zola's Hydra energy weapons as seen in Captain America: The First Avenger as a reference point to create their own arsenal of weaponry.
When Phil Coulson tries to contact Tony Stark in Stark Tower, Stark claims that "This is the Life Model Decoy of Tony Stark." This is a reference to Life Model Decoys (LMDs) that appear in the comics as duplicates for characters.
Tony Stark reminds Phil Coulson that he was "unsuitable" for the Avengers Initiative, as stated in Nick Fury's evaluation file on Tony at the end of Iron Man 2. Instead, he remains a consultant.
When Thor returns to Earth, Loki asks him how much dark energy Odin had to use to send him there, confirming that the Bifrost is still destroyed.
Phil Coulson refers to The Destroyer 's attack on New Mexico depicted in Thor and reveals that S.H.I.E.L.D. is developing weapons made from parts of it.
Bruce Banner refers to his fight with Abomination in The Incredible Hulk when Stark offers a visit to Stark Tower, saying "Thanks, but last time I was in New York, I kind of broke... Harlem."
Bruce Banner is said to have avoided a Hulk incident for over a year, meaning that the events of The Avengers take place over a year after The Incredible Hulk. During this time, he has spent his time travelling Asia to help the sickly.
A mid credits scene reveals that Loki's ally and the Other's master was Thanos, setting him up as the villain in later films.
Agent Coulson tells Thor that his love interest Jane Foster has been hidden from Loki by S.H.I.E.L.D.
Nick Fury tells Bruce Banner he has been protecting him from other forces searching for him, meaning General Ross.
Pepper Potts' friendship with Phil Coulson echoes (much to Stark's dismay) the extended opening sequence of Iron Man 2 as seen on the Blu-ray.
Bruce Banner refers to the alternate opening sequence of The Incredible Hulk where Bruce tried to commit suicide. In the Wishbone lab, Banner tells the rest of the team "I got low. I didn't see an end to it, so I put a bullet in my mouth and the "Other Guy" spat it out."
Captain America references either Adolf Hitler or Johann Schmidt when he comes face to face with Loki in Stuttgart, Germany.
The song Tony Stark plays from the Quinjet when he makes his grand entrance in Captain America and Loki's fight, Shoot to Thrill by Australian rock band AC/DC,was also played during Tony's arrival at the Stark Expo at the beginning of Iron Man 2.
When Rogers talks to Stark about Coulson and why he did what he did, Rogers mentions "sometimes there's no way out." Stark replies he has heard that before, refering back to Yinsen, who saved his life in Iron Man. This makes it the first time in any way that Yinsen is somewhat mentioned since Iron Man.
Item 47
Agents of S.H.I.E.L.D.
"Pilot"
"0-8-4"
"The Asset"
"Eye-Spy"
"Girl In The Flower Dress"
"FZZT"
"The Hub"
"The Well"
"Repairs"
"The Bridge"
"The Magical Place"
"Seeds"
"T.R.A.C.K.S."
Emil Blonsky is referenced and said to be in a cryo-cell in Alaska.
The Clairvoyant is mentioned.
Ian Quinn returns and has ties to Cybertek.
Mike Peterson returns.
"T.A.H.I.T.I."
"Yes Man"
Iron Man 3
Tony Stark built 35 new armors since the Chitauri Invasion of New York in The Avengers.
Scenes of the invasion from The Avengers are seen in Tony's nightmares.
Ho Yinsen appears in a flashback to 1999.
A.I.M. is established.
Extremis is similar to the Super Soldier Serum, giving its patients superhuman strength.
The Chitauri are referred to multiple times as "aliens".
S.H.I.E.L.D. is mentioned.
Thor Odinson is mentioned by Killian when speaking to Tony, stating "Ever since that big dude with the hammer fell out of the sky, subtlety's kinda had it's day."
The Avengers are referenced. Happy Hogan mentions them as the "Super Friends".
Thomas Richards was an accountant for the Roxxon Corporation.
The Mandarin has a tattoo of Captain America's shield on his neck.
The government paint the War Machine Mark II with the color-scheme based on Captain America's uniform dubbing it the Iron Patriot.
The post-credits scene reveals the entire movie was Stark recounting the events to Bruce Banner, who had fallen asleep at the beginning of the story.
Thor: The Dark World
Jane slaps Loki stating "That was for New York!", referring to the Chitauri that attacked New York in The Avengers.
Jane mentions The Avengers.
Erik is suffering mental anguish from the events of The Avengers. News reports claim that Selvig was responsible for the Chitauri invasion.
The Tesseract is mentioned.
Darcy attempts to contact S.H.I.E.L.D. while awaiting Jane's return. She also states how S.H.I.E.L.D. is likely to appear and conceal the strange occurrences.
Loki has been imprisoned in Asgard for his crimes depicted in Thor and The Avengers.
Loki briefly masquerades as Steve Rogers while talking to Thor.
Taneleer Tivan/The Collector is approached by Sif and Volstagg with the Aether, one of the six Infinity Stones, entrusting him with its care.
All Hail the King
Captain America: The Winter Soldier