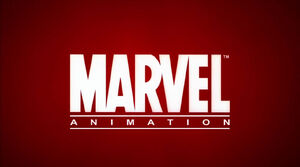 Marvel Animation is the animation production company that was founded to create a better presence of Marvel Characters in animation and home entertainment markets.
Marvel Animation is a subsidiary of the Marvel Entertainment, which is owned by The Walt Disney Company.
All animated films produced by Marvel Animation to date have been distributed by Lions Gate Entertainment.
Productions
Future
After the release of Thor: Tales of Asgard, Disney is expected to take over distribution of Marvel Animation films.
In 2006, Lionsgate announced that it was greenlighting animated films based on the characters of Black Panther and Captain America.[1] In 2007, vice president of creative development at Marvel Animation, Craig Kyle said that Marvel Animation was considering producing a sequel to Ultimate Avengers 2.[2] In 2008, Kyle confirmed that a solo animated Captain America film and a sequel to The Invincible Iron Man were still being looked by Marvel.[3]
References
Ad blocker interference detected!
Wikia is a free-to-use site that makes money from advertising. We have a modified experience for viewers using ad blockers

Wikia is not accessible if you've made further modifications. Remove the custom ad blocker rule(s) and the page will load as expected.