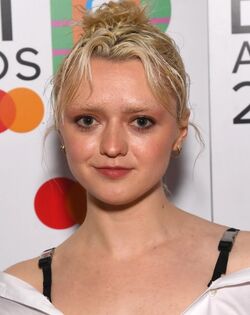 Maisie Williams will portray Rahne Sinclair/Wolfsbane in the upcoming The New Mutants.
Significant roles
Arya Stark in Game Thrones (2011-)
Loren Caleigh in The Secret of Crickley Hall (2012)
Jo O'Malley in Heatstroke (2012)
Abbie in Gold (2014)
Casey Jacobs in Cyberbully (2015)
Ashildr in Doctor Who (2015)
Lydia Lamont in The Falling (2015)
Millie in The Book of Love (2016)
Lucy in iBoy (2017)
Quotes
Please add a list of quote from this performer about their work in Marvel Movies!
Ad blocker interference detected!
Wikia is a free-to-use site that makes money from advertising. We have a modified experience for viewers using ad blockers

Wikia is not accessible if you've made further modifications. Remove the custom ad blocker rule(s) and the page will load as expected.