Ad blocker interference detected!
Wikia is a free-to-use site that makes money from advertising. We have a modified experience for viewers using ad blockers

Wikia is not accessible if you've made further modifications. Remove the custom ad blocker rule(s) and the page will load as expected.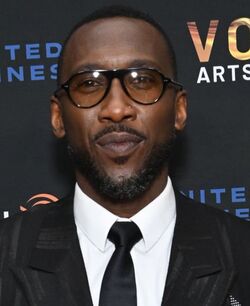 Mahershala Ali will portray Cornell Stokes in Luke Cage.
Significant roles
Dr. Trey Sanders in Crossing Jordan (2001-2002)
Jelani Harper in Threat Matrix (2003-2004)
Richard Tyler in The 4400 (2004-2007)
Mombasa in Predators (2010)
Kofi in The Place Beyond the Pines (2012)
Anthony King in Treme (2011-2012)
Nathan Clay in Alphas (2011-2012)
Remy Danton in House of Cards (2013-2016)
Boggs in The Hunger Games: Mockinjay - Part 1 (2014)
Boggs in The Hunger Games: Mockinjay - Part 2 (2015)
Moses in Free State of Jones (2016)
Quotes
"There are going to be so many kids out there who get to see a black man on that screen and aspire to be like him. We didn't have that. They get to be included. When I grew up, it was a lie to us that you could be anything you wanted to be. Because we knew we couldn't be president. What this generation has is President Obama — he's a superhero for us. And I think that might be hard for people to really embrace and understand."