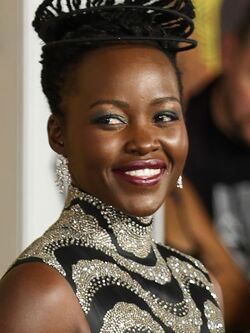 Lupita Nyong'o will portray Nakia in Black Panther.
Significant roles
F in East River (2008)
Ayira in Shuga (2009-2012)
Patsey in 12 Years a Slave (2013)
Gwen in Non-Stop (2014)
Maz Kanata in Star Wars, Episode VII: The Force Awakens (2015)
Raksha in The Jungle Book (2016)
Harriet Mutesi in Queen of Katwe (2016)
Maz Kanata in Star Wars: Episode VIII (2017)
Quotes
"The story of this Black Panther is- what am I allowed to say? – The story is that the Black Panther's leadership is really threatened by two foes who come together, and so Black Panther gets the help of the C.I.A. and the Dora Milaje to try and defeat the enemy."
Ad blocker interference detected!
Wikia is a free-to-use site that makes money from advertising. We have a modified experience for viewers using ad blockers

Wikia is not accessible if you've made further modifications. Remove the custom ad blocker rule(s) and the page will load as expected.