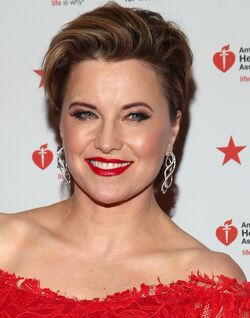 Lucy Lawless portrayed a Punk Rocker in Spider-Man and Isabelle Hartley in Agents of S.H.I.E.L.D..
Significant roles
Xena in Hercules: The Legendary Journey (1995-1998)
Xena in Xena: Warrior Princess (1995-2001)
Xena in Hercules & Xena: Wizards of the Screen (1997)
Xena in Hercules and Xena - The Animated Movie: The Battle for Mount Olympus (1998)
Shannon McMahon in The X-Files (2001)
Xena in Xena: Warrior Princess - A Friend in Need (2002)
Punk Rock Girl in Spider-Man (2002)
Kathleen Clayton in Tarzan (2003)
Madame Vandersexxx in EuroTrip (2004)
Maddy Rierdon in Locusts (2005)
Maddy Rierdon in Vampire Bats (2005)
D'Anna Biers in Battlestar Galactica (2005-2009)
Cheryl in The Darkroom (2006)
Agent Morris in Veronica Mars (2006)
Tanya Austin in Football Wives (2007)
Goldmoon in Dragonlance (2008)
Wonder Woman in Justice League: The New Frontier (2008)
Audrey Yates in CSI: Miami (2008)
Aspen in Bedtime Stories (2008)
Sgt. Marybeth Duffy in The L Word (2009)
Vera in Angel of Death (2009)
Mother Superior in Bitch Slap (2009)
Lucretia in Spartacus: Blood and Sand (2010-2012)
Lucretia in Spartacus: Gods of Arena (2011)
Helen Burton in No Ordinary Family (2011)
Diane Lewis in Parks and Recreation (2012-2014)
Caroline Platt in Top of the Lake (2013)
Quotes
"Well, she's a badass girl. You don't want to mess with her. I was very interested in the fact that she's a mercenary. I quite like people who have a lot of duality. You try to play them as somebody perfectly sensible and likeable, but who does terrible things for a living. I was attracted to that. She's a dangerous gal."
"It's whatever the writers want to write. All things are possible in SHIELD. That's what I love in this sci-fi comic world. There are no absolutes. There are no bottom lines. Every boundary is bendable."
Ad blocker interference detected!
Wikia is a free-to-use site that makes money from advertising. We have a modified experience for viewers using ad blockers

Wikia is not accessible if you've made further modifications. Remove the custom ad blocker rule(s) and the page will load as expected.