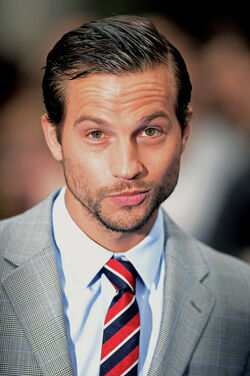 Logan Marshall-Green portrayed Jackson "Montana" Brice/the Shocker in Spider-Man: Homecoming.
Significant roles
Mitch Wilkens, aka Max Van Horn in Law & Order: Special Victims Unit (2003)
Ray in The Kindness of Strangers (2004)
Kyle Mellors in Law & Order (2004)
Martin in Alchemy (2005)
Richard Heller in 24 (2005)
Lt. Paul Colvin in The Great Raid (2005)
Trey Atwood in The O.C. (2005)
Tyler Frog in Traveler (2007)
Paco in Across the Universe (2007)
Melvin Panton in Brooklyn's Finest (2009)
Dean Bendis in Dark Blue (2009-2010)
Mechanic in Devil (2010)
Charlie Holloway in Prometheus (2012)
Jewel in As I Lay Dying (2013)
Billy in Cold Comes the Night (2013)
The Marquis in Madame Bovary (2014)
Will in The Invitation (2015)
Quarry in Quarry (2016)
Quotes
Please add a list of quote from this performer about their work in Marvel Movies!
Ad blocker interference detected!
Wikia is a free-to-use site that makes money from advertising. We have a modified experience for viewers using ad blockers

Wikia is not accessible if you've made further modifications. Remove the custom ad blocker rule(s) and the page will load as expected.