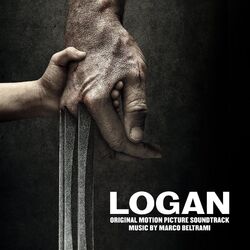 Logan is the soundtrack of the film of the same name and comprised of music composed by Marco Beltrami.
Track list
Main Titles
Laura
The Grim Reavers
Old Man Logan
Alternate Route to Mexico
That's Not a Choo-Choo
X-24
Gabriella's Video
To the Cemetery
Goodnight Moon
Farm Aid
Feral Tween
Driving to Mexico
You Can't Break the Mould
Up to Eden
Beyond the Hills
Into the Woods
Forest Fight
Logan vs. X-24
Don't Be What They Made You
Eternum – Laura's Theme
Logan's Limo
Loco Logan
Logan Drives
Ad blocker interference detected!
Wikia is a free-to-use site that makes money from advertising. We have a modified experience for viewers using ad blockers

Wikia is not accessible if you've made further modifications. Remove the custom ad blocker rule(s) and the page will load as expected.