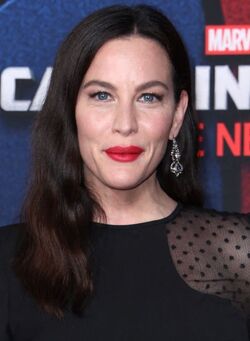 Liv Tyler portrayed Betty Ross in The Incredible Hulk.
Significant roles
Behind the Scenes
In a June 3, 2008 appearance on The Tonight Show, Liv Tyler told a story about having her pants split while she was filming a scene in which Betty Ross pulls her father from a crashed helicopter. As a result of the incident a cameraman gave her the nickname "Action Pants".[1]
Quotes
"I just feel really excited to be a part of this. And I am interested and drawn to this love story these two people share, that she sees something in Bruce that no one else sees and believes in him in a way that no one else does."
References
↑ The Incredible Hulk Roundup Rob Allsteter, Comics Continuum, June 4, 2008
External Links
Ad blocker interference detected!
Wikia is a free-to-use site that makes money from advertising. We have a modified experience for viewers using ad blockers

Wikia is not accessible if you've made further modifications. Remove the custom ad blocker rule(s) and the page will load as expected.