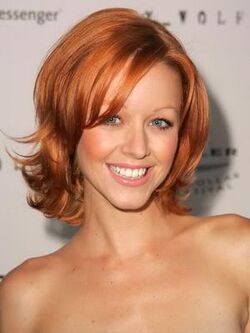 Lindy Booth portrayed Night-Bitch in Kick-Ass 2.
Significant roles
Carrie Taylor in Eerie, Indiana: The Other Dimension (1998)
Claudia in Relic Hunter (1999-2001)
Riley Grant/Hawk in The Famous Jett Jackson (1999-2001)
Lana Turner in Life with Judy Garland: Me and My Shadows (2001)
Riley Grant/Hawk in Jett Jackson: The Movie (2001)
Holly Culverson in Odyssey 5 (2002-2003)
Francine in Wrong Turn (2003)
Nicole in Dawn of the Dead (2004)
Liv in The 4400 (2005)
Dodger in Cry_Wolf (2005)
Beth Chapman in Nobel Son (2007)
Pizza Girl in October Road (2007-2008)
A.J. in The Philantrophist (2009)
Quotes
Please add some quotes from this perfomer about her work with Marvel movies!
Ad blocker interference detected!
Wikia is a free-to-use site that makes money from advertising. We have a modified experience for viewers using ad blockers

Wikia is not accessible if you've made further modifications. Remove the custom ad blocker rule(s) and the page will load as expected.