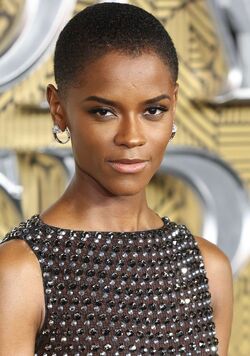 Letitia Wright will portray Shuri in the upcoming films Black Panther and Avengers: Infinity War.
Significant roles
Ellie Maynard in Holby City (2011)
Chantelle in Top Boy (2011)
Taylor Davis in Chasing Shadows (2014)
Vivienne Scott in Banana (2015)
Vivienne Scott in Cucumber (2015)
Anahson in Doctor Who (2015)
Renie in Humans (2016)
Reb in Ready Player One (2018)
Quotes
"She's princess of Wakanda, but also she designs all of the new technology there. She has an innovative spirit and an innovative mind, and she wants to take Wakanda to a new place. Also, she has a great fashion sense, better than mine. She's so vibrant; a beautiful spirit, but also so focused on what she does. And that's good for other people to see, especially young people to see, because it's like, 'Look, there's a young black girl who loves technology and she's from Africa.' It's something refreshing."
Ad blocker interference detected!
Wikia is a free-to-use site that makes money from advertising. We have a modified experience for viewers using ad blockers

Wikia is not accessible if you've made further modifications. Remove the custom ad blocker rule(s) and the page will load as expected.