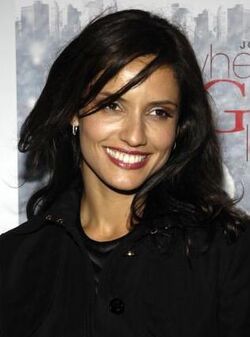 Leonor Varela portrayed Nyssa in Blade II and Camilla Reyes in Agents of S.H.I.E.L.D. episode "0-8-4".
Significant roles
Pola Santa Maria in Tic Tac (1997)
Cleopatra in Cleopatra (1999)
Dr. Azelia Barakat in The Curse of King Tut's Tomb (2006)
Angela Diaz in Where God Left His Shoes (2007)
Luz Martínez in Sleep Dealer (2008)
Nada in Hell Ride (2008)
Norma Sanchez in Balls Out: Gary the Tennis Coach (2009)
Anna in Wrong Turn at Tahoe (2009)
Laura Palma in Feroz (2010)
Quotes
Please add some quotes from this performer about their work with Marvel movies!
Ad blocker interference detected!
Wikia is a free-to-use site that makes money from advertising. We have a modified experience for viewers using ad blockers

Wikia is not accessible if you've made further modifications. Remove the custom ad blocker rule(s) and the page will load as expected.