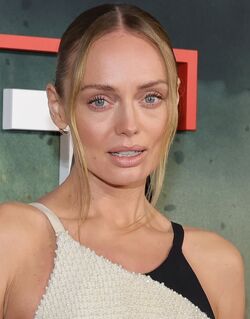 Laura Haddock portrayed an Autograph Seeker in Captain America: The First Avenger and Meredith Quill in Guardians of the Galaxy and Guardians of the Galaxy Vol. 2.
Significant roles
Katie Carter in Honest (2008)
Lady Arabella Worthesley Wolsey in The Palace (2008)
Miss Grosvenor in Marple: A Pocket Full of Rye (2008)
Samantha in How Not To Live Your Life (2009-2011)
Alison in The Inbetweeners Movie (2011)
Beryl Ballard in Upstairs Downstairs (2012)
Lucrezia Donati in Da Vinci's Demons (2013-)
Quotes
"Yes, I got an opportunity to go in and do a part in that movie. It was amazing working with James Gunn and Chris Pratt. It was one of the most brilliant jobs because it's huge! My part is very personal, very important to the story, but quite a small part. But still very important certainly to Star-Lord's journey. I don't know much I can say it's very different to anything I've ever done. It's a complete opposite of anything I've ever done."
"Yes, that was amazing! I got to go up and work on that film with James Gunn, and he's great to work with. He's working on this huge sci-fi film and a lot of the time, he's having to play scenes with actors who are working on a green screen, so they're creating their own reality, I suppose. It's pretty hard to do on a green screen, but it was rooted in truth and reality, and James made sure that myself and the other actor never met [prior to shooting], never saw each other. We didn't get ready together, we got made up in different trucks, and the first time we ever saw each other was on camera, so the reaction was completely honest and real."
Ad blocker interference detected!
Wikia is a free-to-use site that makes money from advertising. We have a modified experience for viewers using ad blockers

Wikia is not accessible if you've made further modifications. Remove the custom ad blocker rule(s) and the page will load as expected.