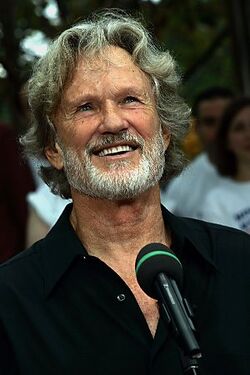 Kris Kristofferson portrayed the character of Abraham Whistler in Blade, Blade II, and Blade: Trinity.
Significant roles
Billy The Kid in Pat Garrett and Billy The Kid (1976)
David in Alice Doesn't Live Here Anymore (1974)
James Averill in Heaven's Gate (1980)
Jesse James in The Last Days of Frank and Jesse James (1986)
Mace Montana in Big Top Pee-wee (1988)
Rip Metcalf in Pair of Aces (1990)
Bronson in Payback (1996)
Karubi in Planet of the Apes (2001)
Doc in D-Tox (2002)
Quotes
Please add some quotes from this performer about their work in Marvel movies!
Ad blocker interference detected!
Wikia is a free-to-use site that makes money from advertising. We have a modified experience for viewers using ad blockers

Wikia is not accessible if you've made further modifications. Remove the custom ad blocker rule(s) and the page will load as expected.