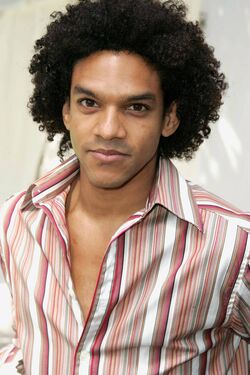 Khary Payton will portray Kutter in Powers.
Significant roles
Andrew in Latter Days (2003)
Ten in Justice League (2003)
Victor Stone/Cyborg in Teen Titans (2003-2006)
E-Scream in What's New Scooby Doo? (2006)
General Deuce in Loonatics Unleashed (2006-2007)
Josh in Emily's Reasons Why Not (2006-2008)
Tyr in Legion of Superheroes (2007)
Manny in Ben 10: Alien Force (2008-2010)
Ripcord in G.I. JOE: Renegades (2010-2011)
Aqualad in Young Justice (2010-2012)
Terrell Jackson in General Hospital (2011)
Victor Stone/Cyborg in New Teen Titans (2011-2012)
Quotes
"The thing is that it's so cool. It's SO cool! I love it. I love Powers. I love Brian Bendis and Michael Oeming. Those guys are – I honestly think they just cast me in it so that I'd go buy all their comic books. I have no time for my three-year-old anymore. I'm reading Brian Bendis and putting Michael's picture on my wall."
"But they're amazing, and there really is a commitment. The higher ups want to do this so badly because they know it's going to be the coolest thing on television. But it's hard. It's a hard concept, I think, to get. And they had to step back and start over again. From what I hear, the plan is still moving forward."
"Unfortunately, we – all of the actors – got released. They're literally starting over. They want to do it again. And fortunately and unfortunately, I'm doing another show, and I still hope beyond hope that I can be a part of Powers. But I'm happy to be working. But things are happening with Powers absolutely. There are scripts being turned out. They just want more material to hear that they're getting it right."
Ad blocker interference detected!
Wikia is a free-to-use site that makes money from advertising. We have a modified experience for viewers using ad blockers

Wikia is not accessible if you've made further modifications. Remove the custom ad blocker rule(s) and the page will load as expected.