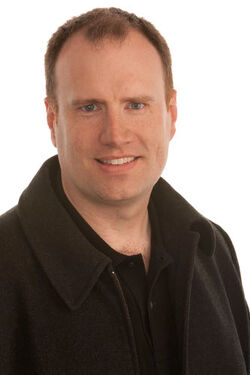 Kevin Feige is the associate producer of Spider-Man, co-producer of Daredevil, X2: X-Men United, Blade: Trinity, and Elektra, executive producer of The Hulk, The Punisher, Spider-Man 2, Man-Thing (film), Fantastic Four, X-Men: The Last Stand, Spider-Man 3, Fantastic Four: Rise of the Silver Surfer, Punisher: War Zone, The Hands of Shang-Chi, Deathlok and The Amazing Spider-Man, and producer of Iron Man, The Incredible Hulk, Iron Man 2, Thor, Captain America: The First Avenger, Ant-Man, The Avengers, Iron Man 3, Thor: The Dark World, Captain America: The Winter Soldier, Guardians of the Galaxy, Avengers: Age of Ultron, Ant-Man, Captain America: Civil War, Doctor Strange and the upcoming films Guardians of the Galaxy Vol. 2, Spider-Man: Homecoming, Thor: Ragnarok, Black Panther, Avengers: Infinity War, Captain Marvel and Avengers 4.
Ad blocker interference detected!
Wikia is a free-to-use site that makes money from advertising. We have a modified experience for viewers using ad blockers

Wikia is not accessible if you've made further modifications. Remove the custom ad blocker rule(s) and the page will load as expected.