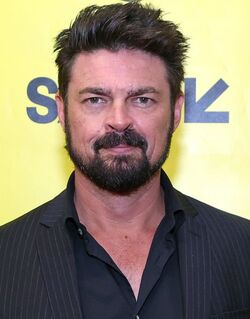 Karl Urban portrayed Skurge the Executioner in Thor: Ragnarok.
Significant roles
Éomer in The Lord of the Rings: The Two Towers (2002)
Éomer in The Lord of the Rings: The Return of the King (2003)
Krill in The Bourne Supremacy (2004)
Dr. Leonard "Bones" McCoy in Star Trek (2009)
William Cooper in RED (2010)
Judge Dredd in Dredd (2012)
Dr. Leonard "Bones" McCoy in Star Trek Into Darkness (2013)
Dr. Leonard "Bones" McCoy in Star Trek Beyond (2016)
Quotes
"I read a fantastic script that was action-packed and full of great characters. When I heard who was involved -- and the cast list dropped yesterday -- and the opportunity to work with Taika Waititi, who I think is one of the most brilliant directors coming through, I made the decision it was something that I wanted to be a part of. And the character is fantastic. He's got a great arc to him. Obviously I can't say too much about it, but I'm really thrilled to be a part of the Marvel universe and to be working on Thor: Ragnarok."
"Suffice to say, I have it in my contract that I don't have to shave my head until after my Star Trek press!"
"The irony is that you won't actually see my body in this movie under the costume that I have, but it's important for me to get into the zone and feel."
"I just started shooting Ragnarok on the Gold Coast with Chris Hemsworth. I read a fun, action-packed script and love my character, Skurge. I get to work a lot with Cate Blanchett. She and I were in Lord of the Rings together, but we never actually shared any screentime. I'm looking forward to that; should be a fun experience."
"I think this is going to feel like a buddy-buddy Thor movie. Starring Hulk and Thor, they'll be good together."
"So, the coolest thing about Skurge? I think is probably his journey through the film. There's change and there's - he finishes the film in a different place than he starts and, as an actor, that's always something you look for."
Ad blocker interference detected!
Wikia is a free-to-use site that makes money from advertising. We have a modified experience for viewers using ad blockers

Wikia is not accessible if you've made further modifications. Remove the custom ad blocker rule(s) and the page will load as expected.