Karen Gillan
Comments

0
3,110pages on
this wiki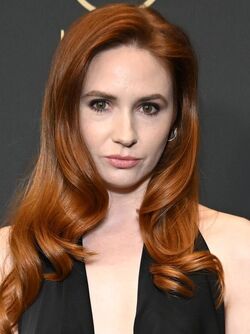 Karen Gillan will portray Nebula in the upcoming Guardians of the Galaxy.
Significant roles
Amy Pond in Doctor Who (2010-2012)
Quotes
"I can't really say anything about it other than my character is really bad. My hands are more tied on this than they were on Doctor Who!"
"What can I tell you?" "I'm playing a very bad person!"
"I don't know! I got a letter saying, 'Welcome To The Marvel Universe' which was THE most exciting thing that I've ever read."
"I was told before I auditioned for the role that I would have to shave my head if I got it. But I didn't think I was going to get it. So I was like 'Yeah sure guys, absolutely I'll shave my head. Not a problem.' And then three screen tests later I'm like 'Oh, this might actually happen...' "
"She's bald in the novels, Zoe's character has hair. So their look was predefined and my hair had to go."
"Not very much [I can reveal], I'm afraid. It's all very hush-hush. But I do have a lot of sibling rivalry with Zoe's Gamora."
"I play a character called Nebula. She's the female villain of the film and she has a very interesting relationship with the lead female Gamora, played by Zoe Saldana. It's a very complex, interesting part of the film. It's really amazing working with Zoe Saldana. She's like a master of work in the camera; it was just so cool to watch her work. And also she's amazing at stunts, really amazing. She used to be a ballerina, so she's good at that stuff, whereas I look like spaghetti."
"I've never played a bad character, but to give her a reason to be bad was something that was interesting to me and I feel like I've learned something about that."
"I think it's perfect! Rocket Raccoon is one of the best characters in the film in my opinion and has so many amazing lines. So, Marvel needed to get a really amazing actor for the role, and they did So, I'm really excited to hear what Cooper does with it."
"That's gonna be so good. I mean, he's a huge tree... we're going to see a tree talking and also a tree probably make us cry at some point."
"I play a character called Nebula, she is the female villain of the film. She teams up with Lee Pace who is the male villain. She's very sadistic and evil but I like to think for a very valid reason...No scenes with Benicio del Toro but me and Zoë Saldaña have a very cool sequence together."