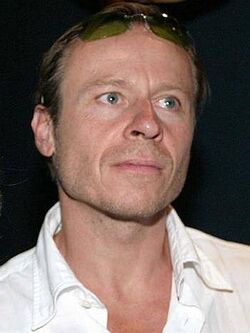 Karel Roden portrayed Karl Kounen in Blade II.
Significant roles
Honza in Jak básníci pricházejí o iluze (1985)
Janek in Ohnivé zeny se vracejí (1986)
Cyril in Auri (1987)
Janek in Ohnivé zeny mezi námi (1987)
Honza in Jak básníkum chutná zivot (1988)
Milan in Cas Sluhu (1989)
Don Giovanni in Kanarska spojka (1993)
Hans Becker in Crackerjack 2 (1996)
Milan in Cas dluhu (1998)
Richard in Verní abonenti (2001)
Emil Slovak in 15 Minutes (2001)
Krystof in Paralelní svety (2001)
Karel in Sen (2002)
Strucker in Bulletproof Monk (2003)
Dragan in Dead Fish (2004)
Grigori Efimovich Rasputin in Hellboy (2004)
Gretkov in The Bourne Supremacy (2004)
Richard Czadsky in Vaterland - Lovecký deník (2004)
Sgt. Hans Beck in The Plan (2005)
Pavel Zeman in Shut Up and Shoot Me (2005)
Anzor Yugorsky in Running (2006)
Nicolai in The Abandoned (2006)
Emil in Mr. Bean's Holiday (2007)
Karel in Vánocní príbeh (2007)
Uri Omovich in RocknRolla (2008)
Dr. Varava in Orphan (2009)
Daniel Carver in Roadkill (2010)
Darko in A Lonely Place to Die (2011)
Quotes
Please add some quotes from this performer about their work with Marvel movies!
Ad blocker interference detected!
Wikia is a free-to-use site that makes money from advertising. We have a modified experience for viewers using ad blockers

Wikia is not accessible if you've made further modifications. Remove the custom ad blocker rule(s) and the page will load as expected.