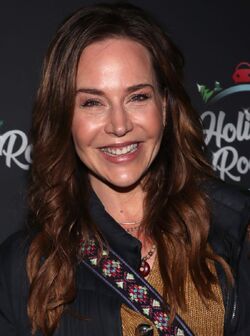 Julie Benz portrayed Angela Donatelli in Punisher: War Zone.
Significant roles
Babs Nielson in Hi Honey, I'm Home (1991-1992)
Darla in Buffy the Vampire Slayer (1996-2000)
Joplin Russell in Ask Harriet (1998)
Breeze O'Rourke in Payne (1999)
Kathleen Topolsky in Roswell (1999-2000)
Darla in Angel (2000-2004)
Rita Bennett in Dexter (2006-2010)
Sarah in Rambo (2008)
Brit in Saw V (2008)
Caitlynn in Kidnapping Caitlynn (2009)
Michelle Estey in Held Hostage (2009)
Johnny Prentiss in Uncorked (2009)
Eunice in The Boondock Saints II: All Saints Day (2009)
Robin Gallagher in Desperate Housewives (2010)
Anna in Bedrooms (2010)
Stephanie Powell in No Ordinary Family (2010-2011)
Christina Holt in A Gifted Man (2011-2012)
Quotes
Please add some quotes from this performer about their work in Marvel movies!
External links
Ad blocker interference detected!
Wikia is a free-to-use site that makes money from advertising. We have a modified experience for viewers using ad blockers

Wikia is not accessible if you've made further modifications. Remove the custom ad blocker rule(s) and the page will load as expected.