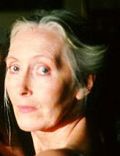 Julia Blake portrayed Heather Hudson in X-Men Origins: Wolverine.
Significant roles
Cook in Against the Wind (1978)
Nancy McCormack in Prisoner (1981-1986)
Milly in Under Capricorn (1983)
Fee Cleary in The Thorn Birds: The Missing Years (1996)
Queen Alexandra in Passion (1999)
Mrs. Caldecott in The Starter Wife (2007)
Minna Franklin in Bed of Roses (2008-2010)
Barbara in The Boys Are Back (2009)
Ellie Hawke in Hawke (2010)
Quotes
Please add some quotes from this performer about their work in Marvel movies!
Ad blocker interference detected!
Wikia is a free-to-use site that makes money from advertising. We have a modified experience for viewers using ad blockers

Wikia is not accessible if you've made further modifications. Remove the custom ad blocker rule(s) and the page will load as expected.