John Slattery
Comments

0
3,665pages on
this wiki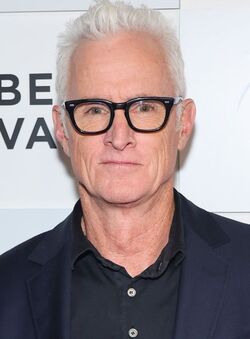 John Slattery portrayed Howard Stark in Iron Man 2 and will reprise the role in the upcoming Ant-Man.
Significant roles
Graham Parker in Before the Storm (1991)
Graham Parker in Under Cover (1991)
Fred Carlson in Sleepers (1996)
Kevin Murphy in Where's Marlowe? (1998)
Maxwell Slade in Sam the Man (2000)
Al Kahn in Homefront (1991-2000)
Jay Follett in A Death in the Family (2002)
Roland Yates in Bad Company (2002)
Dennis Martino in Ed (2002-2003)
Tommy Flannegan in K Street (2003)
Bert Miller in Dirty Dancing: Havana Nights (2004)
Peter Benedict in Jack & Bobby (2004-2005)
Bud Gerber in Flags of Our Fathers (2006)
Steve Cutter in Reservation Road (2007)
Victor Lang in Desperate Housewives (2007)
Roger Sterling in Mad Men (2007-2010)
Quotes
"I saw Jon Favreau recently and he couldn't be a better person to work with. That is a huge operation – he acted as though we had all the time in the world to shoot what we had to shoot, so he was very supportive and I'd work with the guy any time."
"No, they haven't [called me for Iron Man 3]. I was kind of hoping for that in the beginning, but the character in Captain America was 20 years earlier than the part I played, which was already 30 years earlier than the time of the film, so the short answer is no! Would I like to do Avengers 2? Yeah!"