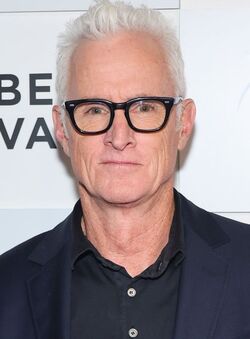 John Slattery portrayed Howard Stark in Iron Man 2, Ant-Man and Captain America: Civil War.
Significant roles
Graham Parker in Before the Storm (1991)
Graham Parker in Under Cover (1991)
Fred Carlson in Sleepers (1996)
Kevin Murphy in Where's Marlowe? (1998)
Maxwell Slade in Sam the Man (2000)
Al Kahn in Homefront (1991-2000)
Jay Follett in A Death in the Family (2002)
Roland Yates in Bad Company (2002)
Dennis Martino in Ed (2002-2003)
Tommy Flannegan in K Street (2003)
Bert Miller in Dirty Dancing: Havana Nights (2004)
Peter Benedict in Jack & Bobby (2004-2005)
Bud Gerber in Flags of Our Fathers (2006)
Steve Cutter in Reservation Road (2007)
Victor Lang in Desperate Housewives (2007)
Roger Sterling in Mad Men (2007-2010)
Quotes
Ad blocker interference detected!
Wikia is a free-to-use site that makes money from advertising. We have a modified experience for viewers using ad blockers

Wikia is not accessible if you've made further modifications. Remove the custom ad blocker rule(s) and the page will load as expected.