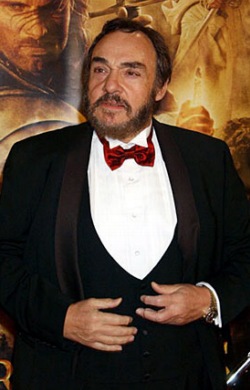 John Rhys Davies portrayed Wilson Fisk/The Kingpin in The Trial of the Incredible Hulk.
Significant roles
Armchair in The Danedyke Mystery (1979)
Salerio in The Merchant of Venice (1980)
Silas in Peter and Paul (1981)
Sallah in Raiders of the Lost Ark (1981), Indiana Jones and the Last Crusade (1989)
Andre Cassell in Victor Victoria (1982)
Leonid Pushkin in 007: The Living Daylights (1987)
Zeus in Goddess of Love (1988)
Challenger in The Lost World (1992), Return to the Lost World (1992)
Michael Malone in The Untouchables (1993-1994)
Charles Brickens in A Flintstones Christmas Carol (1994)
Cassim, the King of Thieves in Aladdin and the King of Thieves (1995)
Luther in Glory Daze (1995)
Thor in Fantastic Four (1995)
Macbeth in Gargoyles (1995-1996)
Prof. Maximilian Arturo in Sliders (1995-1997)
Thor in The Incredible Hulk (1996)
Leonardo Da Vinci in Star Trek: Voyager (1997)
Gimli in The Lord of the Rings: The Fellowship of the Ring (2001)
Gimli and the voice of Treebeard in The Lord of the Rings: The Two Towers (2002)
Gimli and the voice of Treebeard in The Lord of the Rings: Return of the King (2003)
King Priam in Helen of Troy (2003)
Porthos in The Lady Musketeer (2004)
Mordecai in One Night With the King (2006)
Quotes
Please add some quotes from this performer about their work with Marvel movies!
Ad blocker interference detected!
Wikia is a free-to-use site that makes money from advertising. We have a modified experience for viewers using ad blockers

Wikia is not accessible if you've made further modifications. Remove the custom ad blocker rule(s) and the page will load as expected.