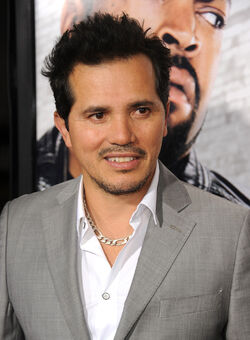 John Leguizamo portrayed Javier in Kick-Ass 2.
Significant roles
Angelo Alvarez in Miami Vice (1986-1989)
PFC Antonio Diaz in Casualties of War (1989)
Ignacio in Revenge (1990)
Luigi Mario in Super Mario Bros. (1993)
Benny Blanco in Carlito's Way (1993)
Manny in The Fan (1996)
Tybalt in Romeo + Juliet (1996)
Pestario "Pest" Vargas in Pest (1997)
Lefty in A Brother's Kiss (1997)
Clown/Violator in Spawn (1997)
Zip in Frogs for Snakes (1998)
Chino in Body Count (1998)
Vinny in Summer of Sam (1999)
Genie of the Lamp/Genie of the Ring in Arabian Nights (2000)
Gune in Titan A.E. (2000)
Larry Garcia in The Brothers Garcia (2000-2004)
Toulouse Lautrec in Moulin Rouge! (2001)
Berger in What's the Worst That Could Happen? (2001)
Victor Rosa in Empire (2002)
Felix Ramirez in Collateral Damage (2002)
Sid in The Ice Age (2002)
Keith Lang in Point of Origin (2002)
Spider Mike in Spun (2002)
Lex Vargas in Undefeated (2003)
Beck in Assault on Precinct 13 (2005)
Dr. Victor Clemente in E.R. (2005-2006)
Cholo DeMora in Land of the Dead (2005)
Sid in Ice Age 2: The Meltdown (2006)
TC in The Groomsmen (2006)
Sid in Lost Historical Films on the Ice Age Period (2006)
Frank Diaz in Where God Left His Shoes (2007)
Mr. Wolf/Jake Mendez in Kill Point (2007)
Roger Pena in Paraiso Travel (2008)
Julian in The Happening (2008)
Enrico in Miracle at St. Anna (2008)
Det. Simon Perez in Righteous Kill (2008)
Mauricio Rodriguez in Nothing Like Holidays (2008)
Sid in Surviving Sid (2008)
Jed in Rage (2009)
Sid in Ice Age: Dawn of the Dinosaurs (2009)
Freek in Gamer (2009)
Asbury in Repo Man (2010)
Jesse in Fugly! (2010)
Sid in Scrat's Continental Crack-Up: Part 2 (2011)
Sid in Ice Age: A Mammoth Christmas (2011)
Jimmy Alpha in One for the Money (2012)
Sid in Ice Age: Continental Drift (2012)
Quotes
Please add some quotes from this perfomer about his work with Marvel movies!
Ad blocker interference detected!
Wikia is a free-to-use site that makes money from advertising. We have a modified experience for viewers using ad blockers

Wikia is not accessible if you've made further modifications. Remove the custom ad blocker rule(s) and the page will load as expected.