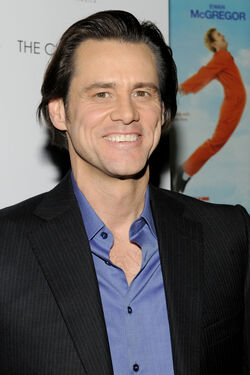 Jim Carrey portrayed Sal Bertolinni/Colonel Stars and Stripes in  Kick-Ass 2.
Significant roles
Tony Moroni in Introducing...Janet (1983)
Lane Bidlekoff in Finders Keepers (1984)
Skip Tarkenton in The Duck Factory (1984)
Mark Kendall in Once Bitten (1985)
Walter Getz in Peggy Sue Got Married (1986)
Johnny Squares in The Dead Pool (1988)
Wiploc in Earth Girls Are Easy (1988)
Death in High Strung (1991)
The Exterminator in The Itsy Bitsy Spider (1992)
Ace Ventura in Ace Ventura: Pet Detective (1994)
Stanley Ipkiss/The Mask in The Mask (1994)
Lloyd Christmas in Dumb & Dumber (1994)
Edward Nygma/The Riddler in Batman Forever (1995)
Ace Ventura in Ace Ventura: When Nature Calls (1995)
The Cable Guy in The Cable Guy (1996)
Fletcher Reede in Liar Liar (1997)
Truman Burbank in The Truman Show (1998)
Joe Wenteworth in Simon Birch (1998)
Andy Caufman in Man on the Moon (1999)
Charlie Baileygates/Hank Evans in Me, Myself & Irene (2000)
Grinch in How the Grinch Stole Christmas (2000)
Peter Appleton in The Majestic (2001)
Bruce Nolan in Bruce Almighty (2003)
Joel Barish in Eternal Sunshine of the Spotless Mind (2004)
Count Olaf in Lemony Snicket's A Series of Unfortunate Events (2004)
Dick Harper in Fun with Dick and Jane (2005)
Walter Sparrow/Fingerling in The Number 23 (2007)
Horton in Horton Hears a Who! (2008)
Carl in Yes Man! (2008)
Steven Russell in I Love You Phillip Morris (2009)
Ebeneezer Scrooge, Ghost of Christmas Past, Ghost of Christmas Present and Ghost of Christmas Yet to Come in A Christmas Carol (2009)
Ronald Reagan in Presidental Reunion (2010)
Tom Popper in Mr. Popper's Penguins (2011)
Quotes
"It's going to be fun. It's different for me. They called me up and said we want you to play this ex-Mafia enforcer,Sam DeStefano style. So I looked at myself in the mirror and went 'okay, might have to do some work'. I got my own makeup guys together and we just started experimenting and it's amazing how little you have to do to completely change your personality. We came up with a guy that no one is going to recognize as me. It's so far away from anything that you've seen. It's really fun."
"I did Kickass a month before Sandy Hook and now in all good conscience I cannot support that level of violence. I am not ashamed of it but recent events have caused a change in my heart."
Ad blocker interference detected!
Wikia is a free-to-use site that makes money from advertising. We have a modified experience for viewers using ad blockers

Wikia is not accessible if you've made further modifications. Remove the custom ad blocker rule(s) and the page will load as expected.