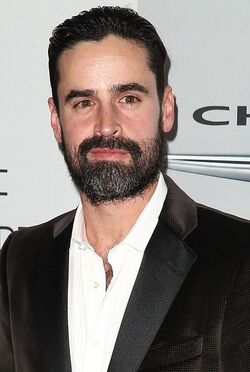 Jesse Bradford portrays Benjamin Pollack in Marvel One-Shot: Item 47.
Significant roles
Joey Pardella in Hackers (1995)
Balthasar in Romeo + Juliet (1996)
Rod Harper in Cherry Falls (2000)
Cliff Pantone in Bring It On (2000)
Ben Cronin in Swimfan (2002)
Ryan Pierce in West Wing (2003-2004)
Rene Gagnon in Flags of Our Fathers (2006)
Charlie Bellow in My Sassy Girl (2008)
Drew in I Hope They Serve Beer in Hell (2009)
Eddie Franks in Outlaw (2010)
David the Agent in Son of Morning (2011)
Quotes
"I read for Captain America. I was literally looking at the material, going, 'What are they, crazy? I'm not right for this.' I got nothing to lose by going in there, but I know I'm not going to get it. And I'm walking in there going, 'They should just give this job to Chris Evans, he's perfect for this!' He's my buddy, and as I was auditioning, I was picturing Chris Evans saying the words."
"The possible goal is that these guys become a part of the world. The other possible thing is that this is it. We just don't know yet."
Ad blocker interference detected!
Wikia is a free-to-use site that makes money from advertising. We have a modified experience for viewers using ad blockers

Wikia is not accessible if you've made further modifications. Remove the custom ad blocker rule(s) and the page will load as expected.