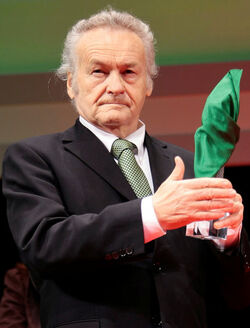 Jerzy Skolimowski portrayed Georgi Luchkov in The Avengers.
Significant roles
Andrzej Leszczyc in Walkover (1965)
Andrzej Leszczyc in Rysopis (1965)
Andrzej Leszczyc in Rece do góry (1981)
Victor Victorovich in Torrents of Spring (1989)
Dr. Zeigler in Mars Attacks! (1996)
Wojchiech Radler in Naznaczony (2009)
Jan III Sobieski King of Poland in September Eleven 1683 (2012)
Quotes
Please add some quotes from this performer about their work in Marvel Movies!
Ad blocker interference detected!
Wikia is a free-to-use site that makes money from advertising. We have a modified experience for viewers using ad blockers

Wikia is not accessible if you've made further modifications. Remove the custom ad blocker rule(s) and the page will load as expected.