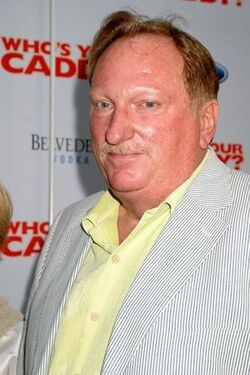 Jeffrey Jones portrayed Dr. Walter Jenning in Howard the Duck.
Significant roles
Clive Barlow in Easy Money (1983)
Emperor Joseph II in Amadeus (1984)
Lepescu in Transylvania 6-5000 (1985)
Ed Rooney in Ferris Bueller's Day Off (1986)
Thomas Jefferson in George Washington II: The Forging of a Nation (1986)
Buffalo Bill in Kenny Rogers as The Gambler, Part III: The Legend Continues (1987)
Charles Deetz in Beetle Juice (1988)
Inspector Lestrade in Without a Clue (1988)
Skip Tyler in Hunt for Red October (1990)
Criswell in Ed Wood (1994)
Eddie Barzoon in The Devil's Advocate (1997)
Reverend Steenwyck in Sleepy Hollow (1999)
A. W. Merrick in Deadwood (2004-2006)
Quotes
Please add some quotes from this performer about their work with Marvel movies!
Ad blocker interference detected!
Wikia is a free-to-use site that makes money from advertising. We have a modified experience for viewers using ad blockers

Wikia is not accessible if you've made further modifications. Remove the custom ad blocker rule(s) and the page will load as expected.