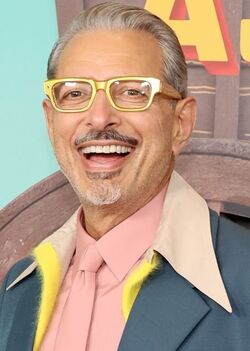 Jeff Goldblum portrayed En Dwi Gast/Grandmaster in Guardians of the Galaxy Vol. 2 and Thor: Ragnarok.
Significant roles
Aldo Ghering in Threshold (1981)
Seth Brundle in The Fly (1986)
Dr. Ian Malcolm in Jurassic Park (1993)
David Levinson in Independence Day (1996)
Dr. Ian Malcolm in The Lost World: Jurassic Park (1997)
Deputy Vilmos Kovacs in The Grand Budapest Hotel (2014)
David Levinson in Independence Day: Resurgence (2016)
Quotes
"He's a hedonist, a pleasure-seeker. He's an enjoyer of life and tastes and smells. I thought, 'I can do that, I'll bet!' I'm working on my part every day. I'm a sponge, researching. He is encouraging me to improvise and make it my own, and that's what I'm trying to do. I hope he doesn't throw me out on the first day!"
"I'll be in Brisbane for three weeks or a month... Not only Chris Hemsworth, Cate Blanchett, Anthony Hopkins… jeez, that's gonna be fun. I've never been to Australia except to do these little publicity things."
"When we first talked, he said, 'I want you to do your particular version of this character without being comic-y or grandiloquent. I think you should do something that's in your creative family tree. And also improvise.' He was very interested in improvisation. We came to all those scenes and riffed enjoyably for the time we had. I don't know what's gonna come out in the mix because we gave him a whole bunch of different choices, I'll tell you that. He's great. Taika Waititi gets 10 Goldblums out of a possible 10 Goldblums."
Ad blocker interference detected!
Wikia is a free-to-use site that makes money from advertising. We have a modified experience for viewers using ad blockers

Wikia is not accessible if you've made further modifications. Remove the custom ad blocker rule(s) and the page will load as expected.