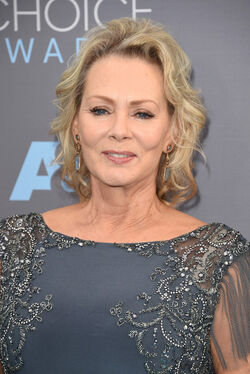 Jean Smart portrayed Melanie Bird in Legion.
Significant roles
Doris in Flashpoint (1984)
Ella in Protocol (1986)
Kate in Homeward Bound: The Incredible Journey (1993)
Dena Dittmeyer in The Brady Bunch Movie (1995)
Deborah Sloane in Guinivere (1999)
Dierdre Lefevre on The Kid (2000)
Stella Kay Perry in Sweet Home Alabama (2002)
Carol in Garden State (2004)
Mrs. Hooten in I Heart Huckabees (2004)
Martha Long in 24 (2006-2007)
Estelle Twisp in Youth in Revolt (2010)
Eileen in Hope Springs (2012)
Floyd Gerhardt in Fargo (2015)
Quotes
Please add a list of quote from this performer about their work in Marvel Movies!
Ad blocker interference detected!
Wikia is a free-to-use site that makes money from advertising. We have a modified experience for viewers using ad blockers

Wikia is not accessible if you've made further modifications. Remove the custom ad blocker rule(s) and the page will load as expected.